Joe's 2010-11 League and Tournament
It's Time to Play the Game!
Interested? Register.
Final Tournament Draws
A Division (All Players) (Updated 7/5/11)
B Division (4th to 9th) (Updated 6/16/11)
Player Matrix
Tournament Seeding
(As of 3/22/11)
| | | | | |
| --- | --- | --- | --- | --- |
| Seed | Player Name (Spread +/-) | Wins* | Notes | ELO Ranking |
| 1st | Abe Pollak (A) | 8 | | 1,707.41 |
| 2nd | Dave Pollak (A) | 7 | | 1,678.87 |
| 3rd | Joe Delgado (A) | 6 | | 1,091.03 |
| 4th | Frank Cai (B) | 4 | def. Gelb & Lim. | 1,498.69 |
| 5th | Warren Lim (B) | 4 | def. Muldowney | 1,497.23 |
| 6th | Robert Muldowney (B) | 4 | def. Cai. | 1,485.21 |
| 7th | Benjamin Gelb (C) | 2 | def. Marron & Lorne. | 1,443.99 |
| 8th | John Marron (C) | 1 | | 1,413.79 |
| 9th | Ed Lorne (C) | 0 | | 1,403.79 |
* Wins are wins among the remaining players and does not count people who withdrew.
---
06/16/11 Joe Delgado and Warren Lim Place Third in A's and B/C's
I'm glad the draw went by the numbers more or less. I was a little worried about being the line in the sand vs. Frank. If he beat me then he walks away with my trophy and I was wrong about my place in the draw. I had a pretty solid game plan going in and One Lee and I talked about it for a while. His observations were spot on and I tailored my game to take my best shot. I won 9 and 8.
Warren and Ben took a while to meet up. Waren has been busy playing golf of all things. Think the match reflected a bit of time off on both players as Warren narrowly kept it to two games 12 and 13. So when I give Warren his third place trophy tomorrow, the League will be officially over. I ran a little long about nine months. So need to shorten that up next time. To the players thanks for playing the League and hope everyone had fun following along.
06/02/11 Congratulations to Frank Cai on 1st Place in B's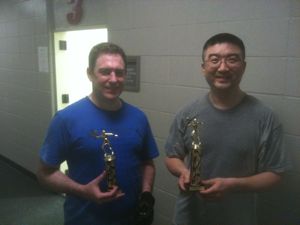 I was playing a game with a couple of guys only to see occassional updates from Frank. I lost. A littlw while late, I won. One of the players said that Rob was hitting a lot of stuff into the floor previously, but looks like he shook it off by the tie-breaker. So sat down with Claudio for the tie-breaker and it was anyone's game. A lot of exchanges and a couple of runs on both sides until the last point I see Frank hit. They shake hands and Frank (right) gives out a uncharacteric "Yeah!". Great way to finish out the League.
Spoke with Rob and he's committed to taking out Abe and Dave next League. So I'm looking forward to drillig and working out with Rob to make that happen next League.
05/16/11 I'll Huff and I'll Puff and I'll Blow Your House Down!
Can call Rob the Big Bad Wolf who took revenge on Warren's game. He faced Warren in the B's Semi-Finals tonight and was able to advance in straight games 8 and 11. No details from Rob, but if I get any play by play I'll post. Rob faces Frank Cai in the Final, who he also defeated in straight games 3 and 7. Guess the question is, how did I mess up the seeding so bad? Three way ties kinda suck. Good luck in the Final Guys.
05/15/11 Congratulations to Abe Pollak on 1st Place in A's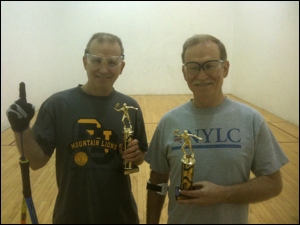 Abe finished out the A's tournament draw with straight game victory over 2nd seed Dave Pollak on Thursday night. Unfortunately I had to watch my boys and didn't get a chance to see any of the match. Abe provided a short description:
We played the A-division Finals match tonight. The match started off very tense with neither of us getting a point for the 1st 10 minutes. The 1st game was very competitive with the lead changing hands several times but I won it 15-11. The second game was pretty much one-sided with me winning 15-6...
We still have some movement left in B's and another trophy to settle for 3rd in A's between Frank Cai and Joe Delgado. Monday in B's, we have Rob vs. Warren which is a battle of the lefties. Anyway was a great finish for Abe who went undefeated in both League and Tournament play. Eleven games is a pretty good winning streak and he's in striking distance of 2nd place in ELO Rankings.
04/13/11 Trophies are In!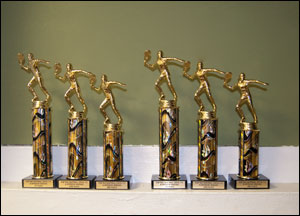 When I took out the trophies to inspect them my son, Jason, was very excited to see them. He played indoor soccer this year and pretty much hated it until he asked to be goalie. Of course, he asked to be goalie on the last day. Anyway he didn't miss a game and I wanted to reward him for that. So I got him a trophy too and he was very excited and proud. Even though our League is small, over the years there's a sense of accomplishment to get one or work harder next time.
As we draw to a close on our League, I wanted to thank everone that played and wish everyone good luck in the Tournament. Your enthuasim, professionalism, and respectful play has been a pleasure to work with.
04/11/11 Nail Bitter Between Delgado and Dave Pollak
It's been a few days since the match, but still remember it and a couple of lessons I learned. I had a couple of big leads especially in the tie-breaker. He took the first game and I believe I dominated the second game. I had a mantra, "Nothing else matters (right now) in the whole world except this point." Kept driving that focus home and then I think I forgot to pay the bill. Dave switched racquets and started chipping. I remember myself saying, "Nothing else matters except the Score." I was like WTF! Not the score this point. Managed to get up to 10 and match point. Was a great match and I learned that true focus is the key.
Frank Cai in the B Semi-Finals
After Ben went three games against John Marron (Nice Job John) for the win. He ran into Frank Cai who dispatched him 3 and 2. Now Frank is waiting patiently for the rest of the draw to catch up to him. On the other side of the draw is Warren and he's waiting to face Rob Muldowney.
03/27/11 Delgado Advances to the Semi-Finals
Wasn't supposed to play Friday and after sitting at a meeting for Jason's school and taking Matt for a follow-up with his Doctor...I could have skipped out on playing, but then Rob's B's match didn't go through, so when Rob offered. I accepted. Plus after a day of errands and the boys I needed to play some Racquetball.
On to the match, I won the lag and gave the first serve to Rob. He looked at me like I had three heads and wondered if the move was legal. I assured him it was, I wanted to capitalize on that second game. Kinda backfired he ran off four straight points in the first game and I lost serve at the start of the second.
I reminded Rob about having three time outs, he didn't take any. I was able to close out the first game 15-4. Second game, he was serving better and hitting better shots. I managed to keep it to two games and won 15-8. Afterward we played another game for kicks and I lost 1-15. I told Rob that seems like I punched out after the win. That didn't sit well with me, so we played two more games and I won the remaining two. Anyway I'll write more in my blog about it later.
It's also the first time that I can remember having a "My House" winning streak! Also was my 50th win.
03/22/11 Dave Pollak Advances Over Gelb to Semi-Finals
Dave returns from vacation nice and rested to dispatch Ben Gelb in straight games 1 and 4. I'm sure Dave is waiting for my match with Rob to finish up. Last time Dave snuffed me 8 and 4. He also beat Rob 5 and 9. So I don't know about Rob, but I'm looking for some pay back. Too bad I'm eating crap and not working out. By my best estimate, I have a week to face Dave, but first need to play Rob--who also took a game away from me a couple of weeks ago. Should be fun. Can't wait!
03/19/11 It's Time to Play the Game!!
Gave it some thought and decided to have two divisions instead of a drop down. B and C Players (4th Seed and Lower) get to play two divisions one with the top three (Abe Pollak, Dave Pollak, and Joe Delgado) and the rest with their peers.
A Division (All Players)
B Division (4th to 9th)
Decided on this format since a drop down would not be fair to all the players, since some may get a bye in the first round and then have nothing to drop down to. Also increases the drama for the top three players to hold onto their place in the tournament. Especially that Delgado guy.
Anyway wanted to wish everyone good luck in the tournament draw and thank you for playing the League. It's time to order some hardware.
03/03/11 One Week Turned to Two...That's it. We're locked!
Allowed one more week to finish up matches, then that turned into two. Now we're pretty close to three and as of today that's it for matches. Frank was able to get his two matches in to catch up to Robert and Warren and make a three way tie--thanks guys.
John Marron gave a wake up call to Frank taking the first game 15-13 with Warren's Gearbox Racquet. Hmmm. Frank hopped back in the driver's seat and finished the match 3 and 1. Frank also defeated Ed 3 and 0. I was thinking of various ways to break the tie and finally settled on ELO Ranking. Maybe not be the best way, but it's a ranking and comes out to be pretty fair. Rob has been working on his backhand, so he's setting the stage for a couple of upsets.
02/12/11 One of the Most Anticipated Match of the League
Ed Lorne vs. John Marron. I wanted to see how it went but got caught up with playing Nick and some other people. It was a pretty close game but John won in straight games and holds on to 8th seed. Before the match, John pleaded "Obi-wan you are our only hope." I'm going to assume it's about the tournament draw.
Ed wanted to play our match which wouldn't affect my seed, but I agreed. I wanted to give Ed the run through to see if there's any advice I can give him. Reminded him about his grip and to keep in center court more often. Lastly I caught him hitting some shots into the floor and said a passing shot would be more effective than trying to hit kills from 36' in the back court.
Also told Ed if he can get 10 points off John then there's a chance to win. He needs to show up more often and play. Ed and I also played the 700th match last night. Wish I did my homework we could of taken a picture to celebrate.
02/06/11 Tournament Seeding
Added ELO to seedings list just to see how it measures up. My ranking sank like a rock a long time ago and it's been pretty hard to bring it up. I guess if the top players keep going up in ranking...I serve as a counter-balance bringing some people down. Between Rob and Warren there's a 0.99 difference, but there's one more match for Warren. A win for Warren would bring him up to 4th seed.
Rounding out the bottom four, we have Frank with some possible movement to 5th seed. Ben is locked up in 7th. If Jon wins his remaining two matches, Ben still won his match vs. John and stays put. Ed has a couple of weeks to finish up five matches and has the biggest possible movement, but I'm looking forward to his match with John Marron the most.
Losing a couple of people sure has made my life difficult as far as the draw goes, but still looking to have an A Division and a B/C robin. Thinking about having all nine go into the draw and then have the first rounders go into the B/C. Just having the top 4 or something go into A's kinda of plays down the drama. More rounds, more excitement, more chances for an upset. Look at the top of this page for the seeding chart, in case you missed it.
01/29/11 Delgado vs. Muldowney. Ortiz Withdraws
We're lucky to have a couple of lefties in this League. Often they are the bane of a right-hander's existence since things get reversed and suddenly a righties great back hand serve goes right into a forehand and swallowed up. A drawback of a lefty is that their backhand often atrophies as a result, since often a righty won't serve to the right side of the court. They either haven't developed a serve to that side or are uncomfortable.
01/26/11 Delgado and Pollak Cementing 3rd and 2nd Seed!
Still need to setup a spread table and see where people are falling into which seeds for the tournament draw, but W's at this point can't hurt. First, was Cai vs. Delgado. Frank started with a couple of psychological emails--I wasn't falling for it. I know Frank can get to a lot of shots and hits with decent consistency and power. I managed to take game one 15-11 and we crawled inch by inch in the scores. Game 2, Frank dropped his E-Force Uproar for a Gearbox GB-75. Frank dominated and was hitting a lot of kill shots and dinking them into the corners. I really had no answer and lost the second game 7-15. Frank was pretty happy to take a game from me and was talking more trash. At this point, I realized...I prefer Ashaway Superkill XL to Technifibre 505 18g. I pulled out my other stick and was hitting stronger shots. Chipped away and won 11-5.
Dave played Ed Lorne and won in straight games 1-1. I give Ed a lot of credit for hanging in there despite there being no C division. Major points in my book for not quitting.
01/22/11 Dropped [Player_SD]
The decision to drop him was based on having eight games unfinished, providing an incorrect phone number, and not responding to any emails from myself and other players. By comparison, we have some players that are one or two matches away from being done, so in the interest of moving things forward and getting done in a reasonable time we need to drop him from the League.
01/15/11 Abe vs. Rob
Back from 12/20/10, Abe won in straight games 4 and 8. Abe leads the League with seven wins and is catching up to Nick and Alex in ELO Rankings. He has a pretty good chance of locking in first seed come tournament time.
01/15/11 Gym Reopens on 18th. New Schedule Ready!
Please review the schedule By Date or By Player only three matches are not scheduled due to conflicts.
01/07/11 Happy New Year! League Resumes the 17th
Hope everyone had fun during the Rutgers break. Anyway believe Cook is closed until the 17th, so gives people time to get back into fighting trim. If you're ready, you can always play on Busch campus or other location. Good luck in 2011.
12/18/10 Matches This Week
Last week, I had the chance to gain my first Winning Streak award but sabotaged myself playing back to back matches against two tough opponents. I was able to beat Claudio in a tie-breaker strategic time out battle, but lost in straight games against Dave Pollak. So he earned the streak award "My House" instead for probably the second time.
This week, Abe is starting to inch away as League Leader with seven wins. He also racking up the winning streak. Dave gave me a elbow strap to try and it made a tremendous different. Over Abe I had like a seven to zero lead in the second game, but couldn't force a breaker losing 7 and 13.
Abe Pollak def. Joe Delgado 15-7; 15-13
Claudio Ortiz def. John Marron (N/A) 15-3; 15-3
Warren Lim def. John Marron (N/A) 15-5; 15-5
Robert Muldowney def. Frank Cai (N/A) 15-3; 15-7
Joe Delgado def. Benjamin Gelb (N/A) 15-7; 15-4
12/06/10 League Catch Up
I was doing just one too many things on my Access app and it crashed during a build, so had to rebuild the stats which takes a bit of time to process six hundred and eighty six matches.
Dave Pollak is quickly closing the gap on his brother Abe with a straight game win over Muldowney 5 and 9. Tomorrow Dave faces your's truly, Joe Delgado, past couple of times in Leagues I've beat Dave. But he's been hitting pretty well this League. Think last time I won by one point in the tie-breaker. I'm already going to be playing a match vs. Claudio Ortiz. So should be interesting tomorrow night.
11/24/10 Happy Thanksgiving
Hope everyone has a nice and safe Thanksgiving. Below are some of the results. Also sent around a link to the rule book and some of the rules we need to follow.
Claudio Ortiz (N/A) def. Robert Muldowney (N/A) 1-15; 15-4; 11-5.
Frank Cai (N/A) def. Warren Lim (N/A) 15-9; 15-7.
Joe Delgado (Spotswood, NJ) def. [Player_SD] 15-7; 15-7.
Dave Pollak (N/A) def. Warren Lim (N/A) 15-14; 15-2.
11/16/10 Vinny Withdraws :-(
Interesting how things are playing out so far. Abe is running a pretty good lead with five wins ending tonight with a win over rival Vinny Liguori (8 and 6). Heard from Vinny there was no chance to beat Abe at 25% and he even played lefty for a bit, but he needs to withdraw and rest his arm.
Warren Lim has been giving tours of his Racquetball House. He admitted to having too much chaos going on in his house game one vs. Gelb, but managed get his house in order and win game two 15-1. I emailed Warren back asking if the tour included the basement? We've been having a good time bouncing this Racquetball Dreamhouse analogy back and forth. Thanks to Fran Davis.
Robert Muldowney (N/A) def. John Marron (N/A) 15-3; 15-1
Warren Lim (N/A) def. Benjamin Gelb (N/A) 15-13; 15-1
Benjamin Gelb (N/A) def. Ed Lorne (N/A) 15-2; 15-0
Dave Pollak (N/A) def. Frank Cai (N/A) 15-3; 15-5
Abe Pollak (N/A) def. Vinny Liguori (N/A) 15-8; 15-6
11/12/10 We're Moving Now.
Rob Muldowney gets on the board with a straight games win over Benjamin 2 and 2. Vinny also takes on Benjamin and wins 7 and 10. Vinny always doing his homework asked me about Benjamin, haven't played him yet.
11/10/10 Battle of the Lefties, Delgado vs. Lim
We have about three lefty's in this League, which I'm sure has some of the right handers pretty nervous. Anyway it was an interesting match with Warren last night. The first game Warren kept serving to my forehand which I promptly put away. I kept most of the serves on his backhand side and chipped away with lobs. Second game, Frank Cai, stops by to give Warren a "pep-talk" where I interrupted to tell him to serve to my backhand.
Second game went better as Warren was hitting harder serves and more shots to my backhand. He was up six or seven to one in the second game. Then I remembered what Alex told me about going three games all the time, so took less chances, entered more rallies that finished on Warren's backhand and was able to close the match in two straight 4 and 9.
In other matches, Benjamin Gleb is right behind Abe Pollak with two wins defeating John Marron 7 and 8 the other day. John also played Abe Pollak but got in trouble with 0 and 0. Looks like we have a League guys keep it going.
11/06/10 Catch Up Day
Thankfully have today to catch up on some stuff esp. with the League. First some matches, Ben Gelb def. Gallego 2 and 4. John Marron def. Gallego 3 and 12. Then we have Ben take on the Pollak brothers. First against the 2nd Place--Dave Pollak. Dave Pollak def. Ben Gelb 2 and 4. Then against 4th--Abe Pollak. Abe Pollak def. Ben Gelb 0 and 6. Pretty sure Alirio withdrew after finding a job, so his record will stay.
We had a couple of people show up on Friday and play for fun. Rob Muldowney and I were there and I wanted to play our League match, but was kind of relieved that he didn't want to play yet. Guys feel free to include more "color" in your match results. Helps us tell a better story. Sorry for any problems with the schedule this week.
11/03/10 Abe Pollak Starts Off
Abe starts off on the right foot with a straight game win over Warren Lim 7 and 0.
10/28/10 Automatic Scheduling
The functions I wrote to help schedule people aren't perfect, but they sure do save a lot of time. I've come to accept some chaos with the schedule. Trying to schedule sixty six matches by hand would take too long. There's about fifteen matches that the app couldn't do. I know some people have out days and I'll handle those by hand. Schedule By Date or By Player is ready to go. Good luck.
10/21/10 About Twelve Players. Let's Go!
Thanks for your interest in the League. Let's go. It's been a while since we had more new players sign-up than old and that's great news.
10/18/10 (Revised 10/19/10) Current Players and One More Announcement
Guess it's time to get started. Trip to Florida is out of the way. Iron Man is Hillsborough is out of the way. So take more stab at getting a couple of more players, but this is what we have signed up so far. It's time to get the League dues in which signiffies a big old...I'm ready.
Welcome to John Marron, who signed up this morning.
09/29/10 7 up. Abe Pollak and Chadha Anurag Sign Up
Glad to see Abe sign up. Last League there was a big upset and injury that dropped Abe to 4th place and the unfinished business between Abe and Vinny should make an interesting League. Also would like to welcome a new player, Chadha Anurag, who I believe plays on Busch Campus. We're still looking for more players and we're about two weeks out from starting.
09/14/10 5 up. Dave Pollak Returns and Rob Muldowney Joins
A Finalist, Dave Pollak, returns. Dave had a great run in the last League and caused some of the major upsets in the draw. Looks like he has his sights once again on First Place. Rob Muldowney is new to the League and the Cook/Douglas scene and a lefty and a pretty good "Go Game" player.
09/09/10 Some of the Regulars Return
Joe Delgado, Vinny Liguori, and Claudio Ortiz have returned so far.
09/08/10 Time to Play the Game!
It's time for some more new blood. This League we're changing the rules. People from other clubs can sign up and play at Rutgers or another club. The only rule is that the tournament draw has to be played out at Rutgers. We want to open it up to more players and make it more flexible for people to get League matches in. If this sounds right up your alley then register or check out our FAQ for more info.
We're looking to start about 9/27 and run to just before or little after the Holidays...depending on the number of players and how late we run wiht the schedule. Any questions please let me know delgado@eqp.com.