Joe's 2012-13 League and Tournament
It's Time to Play the Game!
Final Drawsheets and Round Robin Posted (2/2)
We had a pretty strong group of players this League. Please check out the draws for the results and below for more news. Elites' Drawsheet and B/C Round Robin. Updated 8/01/13.
The season Player Matrix is still available just to see how people earned their seed.
08/01/13 2013 Elite League Final Results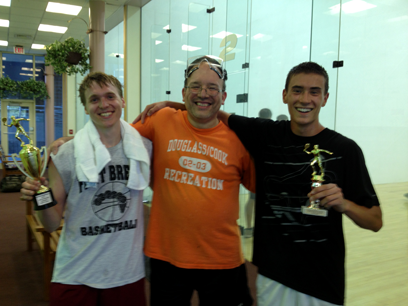 I sheepishly offered to ref the final between Kevin and Tom. Experience has taught me tensions can run pretty high during a final match and don't want players to argue points, tank, or otherwise disrupt the game.
I'm sure opening the door to announce the score was distracting enough. Both guys earned their spots in the final. Kevin by defeating last Leagues 3rd place finisher (Ronny Choy), and last League's first place in Elites (Vinny Liguori). Tom lost a couple of key matchs early in the league because he was sick and not playing at his best. He got a lot better and took down third seed (Sol Torrel) and 2nd seed (Michael Fedun).
So the final match was lots of furious exchanges between Kevin and Tom. Tom redefined the pinch shot by driving it 100+ less than an inch off the floor and almost touching both the sidewall and front wall at the same time. Kevin was playing by the book and worked the lines and crosses. Joe Z. and Leigh watched for a bit and cheered them both on. Kevin kept chipping, turning pages, and ranking up points. Tom slammed shots harder at every turn.
Ultimately Kevin won 10 and 12. He seemed to be in more control of his shots and played solidly to win. Was a great match.
For third. Vinny Liguori played Michael Fedun. I wasn't there but Vinny provided some play by play:
Third place match was an interesting one

Game 1 was a combination of my racquet slipping, my slow start and Mike's great kill shot. Not much to talk about in this game. He destroyed me 15-4.

Game 2 I switched racquets and my hand was slipping early which stunk. I found myself in a 6-3 deficit then out of nowhere I finally realized how to play again haha. I was diving and getting some good shots keeping a high pace. His racquet was slipping as well and called TO to switch gloves. I started taking control and closed out for a 15-7 victory.

Game 3 was not like the first two as this one was a bit closer sprinkled with controversy. Tight game throughout and when it was 2-2, I made a few crazy dives in one sequence and he thought my shot was dead and with no argument I walked away because I kinda dove with my eyes close hoping to get it but two guys watching both said I clearly got it. We did it over and from there I took a decent lead at 10-5. He got serve back and rifled off 3 points so I called a time out at 10-8 bc I remember blowing 10-3 lead in my first league. A long volley after the TO and I get some crazy dives and get serve back. I aced him to take home third place.

I win (4), 7, 8 in a great match.
08/01/13 2013 B/C League Final Results (1/2)
There were only three players in the B/C Robin. We had more, but some people dropped off. Anyway everyone played and the unthinkable happened. There was a tie between Brian and Joe. After sitting down to break a three to four way tie in Elites, I was not looking forward to another one. So Ben Gelb was awarded third place and I quickly decided the best way to break the tie is to have a head to head match.
Brian is a developing player and needs to learn more about mechanics and drilling to get his shots more consistent and with more MPH. He plays a pretty high percentage game and can safely label him as cautious with room to spare. In League play he originally lost to Joe Z. by two points in a tie-breaker. So each time they played it was inch by inch for the win.

Brian won in straight games by the narrowest of margins 13 and 14. Congrats Brian. Next league we'll bump you up the B's.

Joe Z. has a lot of heart. There's a lot of problems that can be fixed in racquetball, but lack of heart (guts, determination, effort) is not one of them. Known lots of players that have good a game, but just don't play with any heart. Anyway Joe Z. has pretty good power but it's just not consistent or focused enough. He recently bought a Head Meanstreak (very nice choice since it's my favorite racquet) and he already showed interest in expanding his game. Anyway looking forward to seeing his game develop and play better next time.
07/01/13 Tournament Draws Setting the Stage for the Quarter Finals
At the top of the draw, Ronny Choy advances over Ben Gelb (8 and 10). It's really a testament to how much Ben has grown since last League. Good job dude. Ronny advances to take on the first seed, Kevin Gaertner.
Tom Shaughnessy and Brian Pailes (6th and 11th Seeds) also finished their quarter final match with Tom winning 2 and 8. Tom was on fire and went after 3rd seed, Sol Torrel. I'm still waiting on details, but looks like it was a real close game. Tom caused an upset and won 14 and 11.
The last quarter final was against the Joe's of the draw. Joe Delgado vs. Joe Zagari. I was giving Joe Zagari some pointers during the League and I started to regret them during our match. Joe Z. has some good shot power, speed, and endurance. I was lucky to capitalize on what I was given and toward the end of the second game I started pulling out all the stops and didn't want it to go three games. Delgado advanced 5 and 10 to play Michael Fedun (2nd Seed).
05/29/13 Dropped Matches (1/2)
Removed some matches from people in an effort to move things a long. Feel we'll never get done with it. Sorry, but should have played more if it mattered.
05/29/13 Delgado vs. Shaughnessy (2/2)
Actually been waiting a few years for this match. A couple of years ago Tom asked to join the League only to find out he needed to be 18 or older. So I refunded his money and wrote a nice letter saying thank you for your interest, but you can't play. Well Tom finally came to Rutgers and joined the League and the battle was worth the wait.
What could I say? He's like 18 and I'm 41, so out running him is out. I had to play with an old Head Extreme 190 where the strings had turned yellow from sitting around. I actually didn't think strings could turn yellow! Why didn't I replace the strings? Well my stringing machine tension head broke. Both my Head Meanstreaks were broken. It was the perfect storm of negative events leading up to this match.
Tom is a hard hitter and I could tell he wanted a power game. I like the power game too and I was doing my best to capitalize on any shots he set me up with off the backwall. Traded some shots and I lost the first game with 13. Second game I was already kind of bloody and tired and he kind of mopped up and won 4. Did I mention it was over at Busch? Cook/Douglas being closed for the summer really sucks! Anyway I feel a lot faster at Busch since the damn walls are so slow!
Rob watched most of the match and when we later as we played cut-throat. I admitted that I was playing a control game because I can see how it bothered Tom so. Anyway I had a good laugh about it and we played a couple of cuts and called it a night.
Signed Up Players (Updated 5/11/13)
Registration for this Tournament is Now Closed
Schedule by Date and by Player. Updated 4/13/13.
Player Name
Division
Status
Notes
(DNF) Abe Pollak
A
Paid
4th in Elites
Alan Denlow
C
Paid
1st League
Ben Gelb
B
Paid
N/A
Brian Pailes
C
Paid
1st League
Claudio Ortiz
A
Paid
2nd Place B/C
(DNF) Dave Pollak
A
Paid
N/A
Joe Zagari
C
Paid
1st League
(DNF) Jon Mignano
N
Paid
1st League
Joseph Delgado
A
Paid
2nd Place Elites
Josh Lavender
C
Paid
Returning from 2004
Kevin Gaertner
A
Paid
N/A
Michael Fedun
B
Paid
N/A
Robert Muldowney
A
Paid
N/A
Ronny Choy
A
Paid
N/A
Sol Torrel
A
Paid
Pending Registration
Tom Shaughnessy
A
Paid
N/A
Vinny Liguori
A
Paid
Returning Elites Champion
03/29/13 Where's the Commentary?
It's been hard keeping up with scores and the schedule. Just haven't started the habit of entering match notes and the like. Anyway we are about one third done with the League matches. I'll work on getting some people scheduled for the middle of next week.
01/24/13 Waiting...Still Waiting.
The Courts are back on a regular schedule starting tonight, but no matches scheduled yet since most of the players haven't paid up. We have a great number of players signed up, so let's go already.
12/6/12 Welcome to Our 10th Racquetball League and Tournament.
Hard to believe it's our tenth Racquetball League. Ten years has brought a lot of changes and some good and bad things have remained the same. One of the best things we continue playing racquetball and having our battles and friendships. The bad...well we've lost some good opponents and friends like: Dave Evans (2006), Don Tietjen (2012), and New Jersey suffered Hurricane Sandy. Anyway need to do something really cool for our 10th. I hope you sign up and enjoy the League.