Joe's 2009-10 League and Tournament
It's Time to Play the Game!
Fourteen players registered as of 2/24/10.
Deadline for all Playoff Matches
is Friday 4/30/10.

Player Schedule by Date and by Player.
Player Matrix
---
Tournament Draw is now posted. Updated 6/8/10.
Tournament Seeding
Updated 5/28/10 09:21 AM.
Rank
Player
W-L
Spread
Notes
1st
Vinny Liguori
6
Fin (3rd)
2nd
Abe Pollak
4
Fin (4th)
Abe def. Alex and Vinny.
3rd
Alex Rtishchev
4
Fin (1st)
Alex def. Vinny and Dave.
4th
Dave Pollak
4
Fin (2nd)
Dave def. Abe and Chris
5th
Ignacio Esteban
2
Fin (QF)
Ignacio def. Jacquet and Odgers.
6th
Christopher Jacquet
2
Fin (QF)
7th
Don Odgers
(2)
Fin (QF)
Odgers def. Delgado.
8th
Joe Delgado
(2)
Fin (QF)
Delgado def. Esteban and Ortiz.
WBI
Claudio Ortiz
(4)
Fin
Ortiz def. Fedun.
9th
Michael Fedun
(4)
Fin (16)
Fedun def. Delgado.
10th
Erik Lopez
(10)
Fin (16)
DNF
Kadri Gedelec
DNF
DNF
Withdrew.
DNF
Yigal Oren
DNF
DNF
Withdrew.
DNF
Matthew Pazos
DNF
DNF
Withdrew.
06/08/10 Revenge has to Wait.
Vinny wanted revenge on one of his two loses, but Abe Pollak cannot continue due to an injury. So congratulations on third Vinny. Overall was a great League and I wanted to thank everyone who participated and followed along.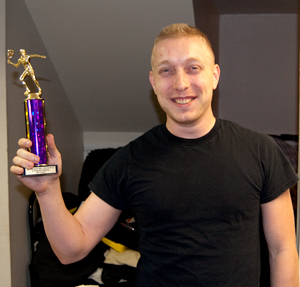 Congratulations to Alex Rtishchev on 1st Place in A's!
Alex came over to pick up some last minute string work for Dave and him. Also gave him the game ball and the 1st and 2nd place trophies, since I wouldn't be able to make it. It was a battle, in game 1 when Dave had 5 his primary racquet's strings broke (eight months old) and he switched to the heavier one I just did for him. Anyway there was an adjustment period and Alex capitialized 15-6. Game two had some heated exchanges and an audience Quarter-Finalist, Chris Jacquet, was watching along with One Lee and I think (from Alex's description) John Sarti. Alex wanted straight games and got it 15-12.
Alex loved his new strings and was drilling a better way to do killshots from YouTube before the match. He always learning.
Known Alex for about six or seven years playing racquetball. He's always been passionate about the game, very fair and tough, and lastly he's been a good friend. I'm proud of him.
05/26/10 The Finals are Set!
The problem with running a League with two kids and a wife that works is I miss a lot of it. Here we are at the semi-finals with the top four players who played their hearts out for about four months and I'm not there. So instead of just writing down the scores I thought I'll share the emails from two players who are about as passionate about the game as I am. Get ready the outcome may not be what you expect.
Vinny Liguori on his match with Dave Pollak
I won game 1 by score of 15-10. He started fast going up 7-1 on me and I chipped away and grinded out the win..I don't like to pat myself on the back much but I made some spectacular plays and Dave said "you should bring a camera man when u play" I was diving and putting it all on line.

Game 2 I lost by score 15-8. I got off the fast start 4-0 then wound up losing. His shots were very on point and mine well, they weren't.

Game 3 I got off to a crazy fast start going up 10-3. He had no answer for my serves or shots early. Unfortunetly, vice versa happened after my 10-3 serve. I drilled a hard serve to his backhand but went just long and I decided to go lob to his forehand to switch it up on second serve. He smashed it for a kill then the momentum changed and I only got one serve back after that. Sadly that serve wasn't for a point and I wound up surrendering 8 straight points. I did not get tired and I always want more than everyone else. I know that and this will sting forever. No excuses I just screwed up badly at a bad time my shots were just missing and his were on point. Final score 10,(8),(10) wow that's all I can say. I want a trophy and I want revenge and the best I can do for that is beat Abe for third place... Alex won his match in straight games 9 and 3. Being that I defeated Dave we are 1-1 it would feel good to know I can go 1-1 against Abe so I'm soo dissapointed but excited at the same time.
Alex Rtischev on his match with Abe Pollak
I came into this game prepared. For what could possibly be the biggest game of my career, Vinny and I made plans to get to Cook early and play to warm up. At 6:00pm, Abe showed up, and we started soon after.

I won the lag for serve, but I gave Abe first serve in game 1. Things were starting off for a really close game -- and then at around 5-5, SNAP -- my strings broke! I couldn't tell you what I was thinking. I am really comfortable with that racquet, and I was devastated... So I went on to my backup -- my trusty Head Megablast 185. My strategy changed to speed and power. The Megablast hits so hard -- I decided to out-power Abe. I slammed every ceiling shot, serve, and pass shot as hard as I could right at him. For a while it was still close, then at around 9-7 with Abe winning, something happened, and I just took off. Got some lucky bounces, aced a couple of serves, and basically slammed everything else as hard as I could. Before I knew it, I won 2 games =)
So there you have it. The top two seeds are out playing for third and the bottom two are playing in their first A's Final. Dave Pollak showed some great toughness and play to come back from 3-10 in the breaker to win his match. Alex pulled out his old faithful, Head Megablast 185, and powered through Abe in straight games. Both are League Veterans, so it's a pretty exciting time and it goes down Thursday! Even for third we have some action, Vinny's looking to even the score against Abe for the loss during League play. Can Abe do it again for third? Good Luck Guys.
05/18/10 Semi-Finals Set! (2/2)
So the top four seeds advanced to the semi-finals without many problems. Now things get really serious. Top seed, Vinny Liguori, takes on #4 Dave Pollak. On the other side of the draw are #2 Abe Pollak vs. #3 Alex Rtishchev. If Vinny advances then he faces the only two people that beat him in League play. If Dave advances then he makes his first final in the A's in my Leagues. What could be Alex's last League the pressure if on to finish strong. Abe who's been denied a first place finish in A's for years is only two matches away from that goal. Good luck to the Semi-Finalists and play hard but play fair.
05/18/10 Jacquet vs. Rtishchev (1/2)
Alex and Chris finished up their Quarter-Final match last night. Alex was a little nervous and showed up early to get a good warm up in. Looks like it paid off and he advanced to the Semi-Finals with 9, (8), and 3.
05/15/10 Delgado vs. Liguori
This one stings a bit to write about. Anyway came over to Cook and Vinny was already warmed up, which was good since they closed at 7. Anyway Vinny started and I think his first game jitters were gone or mine were more apparent. Think he got off to a good lead and then that froze up and I started chipping away. Anyway he won 15-11.
Second game, I started off. I can tell the point when I started getting fired up but it was too little too late. A lot of my serves to the right side (Vinny's Forehand) were long. I focused a lot more on getting them in and a few were aces. Vinny worked a lot of the front court and had some amazing touch shots from deep court that somehow made it up front and died. He closed out the match with plenty of time to spare 11 and 11.
05/13/10 Pollak Brothers Advance to Semi-Finals
Dave was pretty sick last week and came back swinging to advance over Ignacio Esteban (10), 8, and 7. Abe Pollak, second seed, takes out Don Odgers in straight games 6 and 9. Two more matches to flesh out the semi-finals. Delgado vs. Liguori tomorrow at Cook/Douglas and the continuation of Jacquet vs. Rtishchev on Monday.
05/12/10 Delgado vs. Fedun (2/2)
We only had an hour to play, so I was glad to see Mike warming up when I got there before eight. Had a very quick warm up. Matthew, my son, was up pretty much from 2 to 5 AM. So I stayed home from work and slept from 9:00 to about 1:40. To say I needed that would be an understatement. Anyway Mike was going surrender first serve, said it was bad luck, and we lagged for serve anyway which he won. So I started the match with defensive serves just to start off slow.
From our league match, I knew he'll punish me for any setups and any mediocre defensive shots I give him, so added some angles and spin. If I caught him too far forward, then I went for passes and other more aggressive shots. My backhand was doing well. I guess all those shadow hits in my kitchen paid off. He called a "Carry" on himself and shortly after I did. Don't think they exist anymore, but we'll play with them enabled. Anyway I won the first game 15-13.
Alex--#3 Seed--showed up during the second game just to watch, which was cool. I opened up a few more serves but stayed mostly defensive. I returned some nice backhand cross court passes that Mike couldn't answer. Also some backhand returns just died in the front corner. One of my drive serves got me to 14 with an ace, but I hit myself with the next one. Mike ran off a few more points to 12. Then on my serve he called another carry on himself inches from the front wall for the match. I asked him a couple of times to replay the point, but he wanted the carry to stand. I won the match, though anti-climatically, with 13 and 12. Was a nice strategic match with long rallies and using shots to open up other opportunities in the rally. Well as best as two club A's could.
Alex commented that I was mixing up my game pretty well and used his favorite shots (ceiling returns and touch shots) so it was nice to hear. Overall I felt pretty good about the match and was happy that my game plan didn't get erased during the match. Play Vinny for the semi-final Friday at Cook.
05/11/10 Jacquet vs. Rtishchev Split Games. To be continued. (1/2)
They didn't have a lot of time over at Cook and couldn't finish their match. Splitting the first two games. Alex commented that Chris is using a lot of the same techniques he uses. So seems like an even match. Well it all comes down to 11 points on Thursday. Good luck guys.
05/10/10 Quarter Finals Report
Don Odgers advancing for free was a bit unexpected. Don won his league match over Erik in straight games with 8 and 7. Would have been interesting to see how the added pressure of a tournament match would have stirred things.
The only other match in the Quarters is Delgado vs. Fedun. Delgado (8th) lost to Fedun (9th) in straight games 11 and 13. The venue has changed to Busch campus. The only things I like about Busch is that the ball is slower and seems to pop up more. Last time, Fedun played a very defensive game and took advantage of my errors. So this time will need to turn up the pressure on his defensive returns. We also have an hour, so we'll also be playing against the clock.
05/10/10 Odgers Advances Over Lopez
Erik Lopez could not continue, so Don Odgers advances by default to face second seed Abe Pollak. Tomorrow is Delgado vs. Fedun over at Busch Campus at 8 PM and the winner goes on to play top seed, Vinny Liguori. Things really slowed down the past week or so, so time to get things fired up. It's time to play the GAME!! Follow the draw after each match.
05/03/10 Delgado and Odgers Need to Fight for Their Spots
Don Odgers (7th) and Joe Delgado (8th) need to defend their spots in the Tournament Draw vs. Erik Lopez and Mike Fedun. Claudio Ortiz withdrew so that bumps Erik Lopez to 10th seed.
05/01/10 Second Seed Has Been Decided!
We had a three way tie by W/L Record for second seed and in that sub group they each beat one different person, so that wasn't going to work. Since the draw is supposed to showcase the top two seeds, I added Vinny into the group. Both Abe and Alex beat Vinny, so that drops Dave to 4th. Between Abe and Alex, Abe beat Alex. So I awarded Abe 2nd seed and Alex third.
04/30/10 League Completed. Now the Fun Really Begins! (3/3)
I wanted to take a moment to thank everyone that played in the League so far. Also want to give Dave Pollak and Matt Pazos their due props to get me to start another one after a long layoff. It's a lot of work, but in the end I think it's worth it. We get together, form new friendships, challenge each other, and play racquetball. For me, there's nothing better.
I hope we have a good tournament with many battles and stories to be told. It might sound corny, but this is our Championship what we have worked hard for the last three months. Wanted to wish everyone good luck and thank you for getting your matches done by the deadline.
04/30/10 Who got 2nd Seed? I don't know. (2/3)
Claudio Ortiz had to take a forfeit against Alex, so that left Alex to face Abe. Remember a win for Alex would push him to 2nd. It went down to the wire, but Abe was able to squeeze ahead and win 3, (9), and 10. So that leaves three players with the same number of wins for 2nd. It's getting late, so need to leave the number crunching for tomorrow.
04/30/10 Esteban (Nacho) def. Fedun (3/3)
Ignacio "Nacho" Esteban pulls off a double header first vs. Odgers and then vs. Fedun. Ignacio bumps Chris Jacquet out of 5th seed winning over Mike (10), 9, and 1. Ignacio wrote back that he was dead afterward, anyway nice way to head off to bed. Congrats Nacho.
04/29/10 Esteban def. Odgers
No details, but Ignacio won in straight games 12 and 5 which moves Ignacio up to 6th seed. Chris is playing Don tomorrow and needs to win to keep his 5th spot. Waiting on other matches.
04/28/10 1st Seed? Do or Die for Alex Tonight! (3/3)
Alex has to win the next two matches to take first seed from Vinny. One vs. Claudio who he faced in the 2004-05 finals in a three game battle and Abe Pollak who's been consistently at the top of the A Leagues for years. Alex vs. Claudio, granted Alex has some new tricks and is hitting the ball with a lot more power, but Claudio "The Anvil" Ortiz will be fresh and Alex will not. Alex's attrition strategy will probably crash and burn just like Ortiz vs. Fedun. Abe has stepped up to his E-Force Bedlam 170 (probably permanently) and might have more power behind his shots...he's also fresh out of the box. Last time Alex faced Abe, Alex won in straight games. Tough night for Alex, let's see what happens. Don Odgers took away the safety net last night. 100% or 2nd.
04/29/10 Don Odgers wins over Alex Rtishchev (1/2)
Have no details which kinda sucks. Very close game with Don winning (10), 10, and 9.
04/29/10 Ignacio Wins by Forfeit Over Lopez (2/2)
Hopefully Erik is just recovering and looking to cause some damage in the draw. He finished his League matches and has 11th seed. A lot of other people didn't make it this far, so thanks for hanging in there. I like to believe there's always a chance. When you quit that's when there's no chance left.
04/27/10 Ortiz Wins by Forfeit Over Lopez
Erik could not make his match this week and took a forfeit.
04/24/10 Let's Talk Tournament Draw!
A special thanks to PrintYourBrackets who saved me the trouble of coming with a draw for eleven players all by myself. We'll be using the seeded eleven player bracket. Chris told Abe that it was pretty crazy. I actually thought it was quite fair and normalized the draw, top eight players, pretty quickly.
Once the ranking is settled, I'll get a drawsheet out there. Good luck everyone and get those matches in next week.
04/24/10 Abe Pollak Locks in 4th Seed!
Abe defeated Chris Jacquet in straight games 10 and 11. Abe pulled out his E-Force Bedlam 170g. which is twenty grams lighter than his usual racquet. A few weeks ago, showed Abe the radar gun and how much harder he was hitting with a lighter racquet. I might have created a monster.
Next Thursday Abe finishes his matches vs. Alex and can complicate Alex's race for 1st seed. Should be a fun week as we finish up the ranking.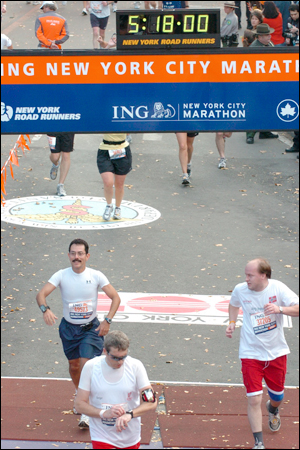 04/24/10 Ortiz "Dinks to Death" Fedun
Ortiz vs. Fedun was an example of how a game style can fit perfectly into a player's strength. When I played Fedun he was very defensive and even though I hate to admit he either wore me down or made me take more risks, but with Claudio, who runs marathons, tiring him out was not an option.
Vinny emailed me that Mike seemed "gassed" at the end of the second game. So eventually the defensive play wore out Fedun and Claudio won (12), 12, and 3. At left, is a picture of Claudio finishing the 2005 New York City Marathon. I'd bet Claudio is surprised I still have the picture he sent me.
04/17/10 Rankings are Firming Up
Mike Fedun split his matches. First taking care of unfinished business vs. Abe Pollak and closing out his match (12), 9, and 6. Then Dave Pollak mopped up what was left in straight games 13 and 4. Pretty sure Dave has at least locked in 3rd seed going into the Draw. It's up to Alex to finish strong and seal the deal for first seed or drop to third or even fourth seed after a great run. No pressure.
04/16/10 Abe Wins with the Home Court Advantage
About a month ago, Abe had to stop playing a breaker at 10-9 because of an injury. Last night he proved he can no only get there again but get that extra point he needed to win. Got an email from Vinny about the match and he commented it was like the first time he played at Cook. There was only a few good serves and the rest were faults. He was trying to adjust his touch game on every shot. With everything riding on just one game, I would think it would be tough for anyone to play two hours at one court and then another that's entirely different. Did some quick math and I think Vinny is safe in the top two spots. It's up to Alex to finish strong and take 1st seed. Abe finished the match: 10, (7), and 8.
04/15/10 Jacquet Sets his Sights on Fourth.
With a three game tie-breaker over Claudio Ortiz 8, (9), and 10. Chris can start a possible run on 4th seed. Chris emailed that he felt avenged after losing to Ignacio in a breaker after five consecutive unforced errors. Still plenty of games so let's see how things pan out.
04/15/10 Rankings Tweaked
Alex pointed out a problem with the above table. It should be ok now. Thanks for the extra set of eyes.
04/15/10 Delgado Finishes with a Win
I played Claudio Tuesday night. The place was empty and he sat around for half an hour waiting for me to show up for our match at 8:00. We caught up on stuff and started playing. First game took my time warming up. I won 15-5. Second game, the warm up was over and Claudio kept running off points. I was trailing 4-12 during a time-out and all I can hear is Alex saying about my three games trend. So I stepped up and fought back and clawed my way back but lost 14-15. Tie-breaker a lot of my shots were just lights out and I won the match 11-5. So I'm currently 9th, but there's still plenty of movement possible. Hope to stay in the middle.
After the match, we played a game and more of Claudio's tricks came out. Even his famous "W" shot. Lots of weird angles that die up front and pretty good power. Also no real chance to wear him down physically since he's running all the time. On the way out we talked about the rest of the group. We both kind of admitted we're not A material. We can have our moments and we both have placed in B's at some point. So time for new challenges.
There's only one way not to guarantee no trophy and that's to not play. I like to believe there's always opportunities to win--if you want to.
04/11/10 Split Matches for Delgado Friday Night
I wanted to write everything down yesterday but the wife called audible. Anyway first up was Ignacio and we talked about our kids (Jason and his Son are about the same age) and he helped me with some concerns I was having with Matt. So it was cool to catch up and play our match.
I was really going for Game 1. I was pretty warmed up and kept firing. Ignacio had some pretty good shots and coverage. Then I borrowed a book off of Alex's shelf called "Touch Shots for Beginners" and turned a few pages. Never been much of a touch player and that's hurt my game for a long time. Anyway with Ignacio hanging in the back it didn't have to be great touch just had to stay up there and die. Regardless Ignacio ran off a few points and we played inch by inch until he won 15-14.
One thing I noticed about Ignacio he was breathing heavy. So was I and I think it was either Alex or Chris who made a comment about it. It was during a time-out or something, so I replied "breathe heavy when you can." The more I can recover, the more damage I can do. I won the second game 15-8. Don't remember much about the breaker. I won (14), 8, and 4.
Delgado vs. Mike Fedun
Next played Mike and I think we messed up on the score tracking a couple of times during the match. Sometimes it is nice to have a ref' just to keep the points straight. Anyway to keep the book Analogy going from before I went back to the bookcase and took out two more books from Fran Davis and her Racquetball Camps. One book from Jason Mannino and another from Lorannie Galloway.
Mike played a very defensive game and waited for his best opportunities. He commented after the game that was the smartest match his played in a while. Feeling is mutual dude, but there was something I exploited and it came directly from Fran Davis' camps. First, Mike's return of serve court position was too far forward. Jason corrected this on me a couple of times a number of years ago. Anyway that leads me to the second book from Lorannie Galloway. She introduced me one of my best weapons on the court. My two step drive serve started at Fran's camp. She had me do a couple until the drive serve bounced twice before the back wall. The two pieces together spelled big trouble for Mike.
A number of serves were short, a few were setups, but a number of them were just aces. Even aced on his forehand side. Eventually he adjusted his court position but a good drive that didn't come off the back wall coupled with his bad court position really helped. I still lost but they were close 11 and 13.
04/08/10 Dave Pollak def. Claudio
Phew lots of numbers flying around trying to get a Preliminary Draw together. Just when I was about done an email comes in from Dave. He won vs. Claudio 5 and 8, which brings up Dave to 3rd in the ranks. Still plenty of games left, so we'll see how things play out. If we keep our existing players the first seed gets a bye in the first round.
04/08/10 Yigal Oren Withdraws (3/3)
Another player with a job. Anyway best of luck with the job and hope to see you next League.
04/08/10 Fedun vs. Rtishchev (2/3)
Alex is usually cooking up some new trick shot to add to his arsenal. Well I'm pretty much a by the book kind of guy, but heard about his match with Mike and how Mike was running around the court. The shots can't be all bad. Alex and I emailed back and forth a bit and I'm trying to introduce a couple of touch shots into my game. I remember, years ago, Gloria from Hillsborough making a similar comment about my game. Anyway also heard that Mike rattled off like ten points in a row! So an interesting battle but Alex closed it out in straight games 12 and 7.
04/08/10 Fedun vs. Abe Pollak. Another Injury? (1/3)
Abe got through the first game winning 15-12, but during the second game about 9-8 with Mike serving Abe got another injury. So this makes another postponed game. Will need to change the rules come tournament time since things need to keep moving in the draw. If someone can't continue then they default on the match. Right now we have about twenty matches to get done unless a miracle happens we're running past mid-month. I don't want to get to the point where C/D closes or has reduced hours and we can't finish the League.
04/07/10 Kadri Gedelec Drops Out
He cannot continue with the League due to a job. Couple of people were wondering what the result of him vs. Yigal would have been. Oh well...guess we need to wait for next League. Need to see what I can do for Yigal to get him some more players to finish out the Round Robin.
04/07/10 Delgado Hits the Wall After Six Games.
I didn't physically hit any walls, so don't worry about me. I had my match vs. Abe Pollak and got to the courts a couple of hours early. I played about four games...a couple of singles and a couple of cut-throat. Want to continue to build endurance and wanted to be ready to play against Abe. I exploded into a big lead in game one and kept that lead until about 12. Then Abe took a time out and started rattling off points. He caught up and then closed out the game. Think I was getting pretty desperate trying to get those last three points and break serve.
Game two...well it was like a black hole opened up on my backhand. Where I was rocketing shots earlier now they barely changed the ball's direction. Couple of drive serves just met little or no resistance. I switched racquets a couple of times basically wanted to see if a heavier racquet would help things. The ball had pop once again, so my debate continues AMP 185 or Meanstreak. Got a couple of important matches coming up Friday, so think I'll finish out with the Meanstreak and just drill until my arm falls off to gain some endurance. Anyway Abe won 12 and 2.
Showed Abe the Radar Gun and asked him about my racquet delimina. He tried my Meanstreak and hit consistently higher shots than his E-Force Bedlam 190. I walked away with 103, think he got up to 98. Started lifting weights this morning so planning on building more muscle after a couple of years of just playing racquetball.
04/02/10 Abe Pollak Returns
After an injury during his match with Vinny Liguori took a couple of weeks to recover. Abe made his return this week with two wins. Against Yigal Oren with 1 and 4. Also against Don Odgers with 4 and 6. He has five matches left. Can he break into the Top four spots for the upcoming tournament draw? Yes. Abe has consistently been to the semi-finals and beyond, so no doubt he's tournament tough. After about seven years, the only trophy missing from his mantle is a 1st place finish. I don't need to bring up last league's final match which not only cost Abe his first place finish but also ended the League for a while. All friendships aside, it has to be run fair and by book this time around.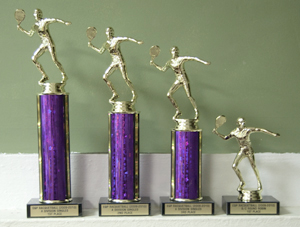 03/31/10 Trophies In!
They arrived last week. Been a pretty hectic week so far, so just taking a few minutes to update some stuff.
So we have 1st, 2nd, and 3rd for A's and a 1st place trophy for the winner of the B/C Round Robin. Good Luck Guys and get those matches in!
03/29/10 Friday Part II (Revised 3/30/10)
Some more results from Friday. Chris Jacquet wins over Mike Fedun in straight games 9 and 13. I originally had it the other way around and wrote a comment about Chris borrowing a racquet from me at a bad time. Looks like the racquet was a good fit after all. Chris also wins over Erik Lopez 7 and 0. Sorry for the confusion.
03/27/10 Bug for Vinny
Vinny is supposed to have nine wins, so need to look at the code and see what is going on.
03/26/10 Super Friday!
We had a good amount of people playing tonight. Vinny said that we have the whole League here. Good amount of players but not quite. Anyway was good to people playing on the courts and people huddled next to each other watching the match through the door. It was good to see and something I miss whenever I play at Cook/Douglas. Racquetball is a great sport and it deserves more in just about every category. For me it felt pretty good to see the League running like in years past. May it continue!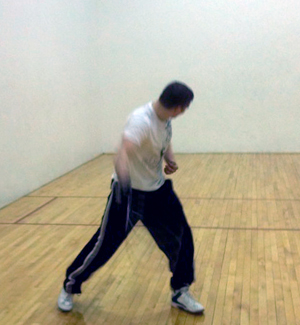 I started off against Don and it took a lot of hedging on my part to finally accept the match instead of waiting until 4/2. I've been playing a lot lately which is good. I hope it helps develop my endurance again. Anyway it was Team Head vs. Team Head tonight and the younger one won. Don is a pretty good player with great speed and strength...and good mechanics. That's Don at left practicing his trick shot. Anyway he had good shot selection and pretty much was on top of any shot I hit. He won 6 and 9. More about the match in my blog.
Don took on Erik "Black Sox" Lopez and did another quick dispatch 8 and 7. Alex was waiting around the whole night like a Panther ready to pounce. Don't know who he went after, but if it was Don then maybe...just maybe Erik and I softened Don up a bit.
Erik also took on another match against Vinny Liguori and did respectable losing 11 and 10, but probably the most interesting match of the night was Vinny vs. Mike Fedun. I couldn't stay, of course, but the scores tell an interesting tale. First off, Vinny reversed and actually won the first game! Lost the second and came back in the third 11-10. Vinny emailed me writing that he was trailing 6-10 and he couldn't lose with Alex watching, so he stepped up his game and ran the last five points. He's banged up pretty good with cuts on his back and fingers, but he won. Good job dude.
03/24/10 Alex up to Seven Wins
Alex defeated Erik Lopez 2 and 7 earning his seventh consecutive win and his longest winning streak to date. Three more and I think he unlocked another streak award. Some tough people in his way like: Abe Pollak, Claudio Ortiz, Don Odgers, and Michael Fedun. He's on the heels of Vinny who leads with 8 wins.
03/23/10 The Only Smell at Cook/Douglas was Victory!
They resurfaced the courts at C/D last week and everyone was worried about the smell. Well Dave Pollak and I played and it really wasn't bad. The courts finally had some stick to them and very shinny. I won the coin toss and gave the first serve to Dave. I didn't warm up a lot so didn't feel like I could explode into a big lead.
Dave did a lot of Z-serves and it was a battle to control center court. The court surface made a big difference in my movements there was no slipping and could change directions and take off quickly. Got a lot of compliments from Dave and ran off game one with a lot of defensive serves 15-7. Game two Dave came back and controlled the front court with pinch shots winning 15-8. Tie breaker. I switched racquets, I wanted the sloppy one since I needed the added boost. I called Dave on a screen serve and he ran off the next shot, so maybe the Racquetball Gods influenced the ball. He was leading 9-7 and I finally inched my way back to 10-10. Match point ended with a drive serve
03/21/10 Two Loses for Delgado
Was supposed to finish up with Vinny Friday night at Busch, but then I saw an email from Alex about our match on Friday...I was like, "Oh yeah. I'm ready." With everything going on I forgot about it. Anyway didn't want my first game against Vinny to count, so when Sinski walked in I pretty much introduced them and sent them playing. So Alex was up first. I let him serve first which is typically his strategy. He runs off a couple and I break serve.
I was hitting pretty well that first game and was able to dial out with 15-10 win. Game two Alex came back and he wasn't offering too much. I pretty much was out of juice by this point, so hedged my bets for the third game. I think it was the first game where I ran after some gets and pretty much growled/shouted at the ball. Normally they are pretty good gets and the growl happens automatically.
Heading to the breaker. I ran off a couple losing 11-5. I really waited too long to write anything down, so I'll need Alex to refresh my memory.
Anyway Vinny had what was left and won 11-7. On Saturday, I was moving around like I was 80. My wife patched me up and by Sunday I was feeling better. One word keeps repeating in all this and that's endurance. Not going to play well against anyone until that's squared up.
Out in the parking lot afterward, we were talking about Leagues past and some of the moments Alex faced in the League. I really enjoyed that. It's like a group of people talking about a Baseball or Football game, but better since it's racquetball. Over the years we all became intertwined in this history and those we remember like (Dave Evans). I don't know, sounds pretty cool to me. It's our Super bowl year after year.
03/13/10 Delgado vs. Liguori. Lights Out Tie Breaker. Literally!
A lot of hype leading up to this match, I emailed Vinny it's going to be "the Textbook vs. the Jumping Bean" and I was pretty much right. We had to play over at Busch, so gave Charlie, Joe, Pat, and Tony a taste of a real league. Well both Joe and Pat have played my leagues in the past, so hopefully they got enticed a bit. Alex stopped by to pay his League fee and to watch. He offered me some pretty good advice and appropriately enough was to hit "textbook" shots and it fit into my existing game plan.
I won the first game 15-5, I knew going in Vinny's first game was going to have problems, so I didn't show too much of my hand and kept mostly to defensive serves. Game 2, he came back pretty strong and ran off 15-5. A lot of my offensive serves were eaten up. He controlled the pace of the game very well. Then I was leading 4-3 in the breaker when the lights literally went out (Closed). I was able to still see the ball and kill it up front, but both Alex and Vinny didn't want that to count. Why? <jk>. We'll start the breaker over next Friday with his serve. I was so pumped to play it was a lot of fun, can't wait to finish!
Was nice to finally meet and play Vinny he has some pretty good and unorthodox shots, excellent speed, and can pretty much get to anything by any means necessary. My only counter is to hit solid shots at or near maximum and get him out of center court to open more opportunities. I would love to see him and George Weickert (2005) play that'll be crazy. Would say both players are pretty similar. Think Weickert is more experienced and more unorthodox. He used to have an extra long wrist lacer so he can switch hands during a rally (paddleball).
Alex asked about my racquet and I said it was perfect. Alex and Vinny liked the texture of Ashaway Superkill XL, which is my favorite string. Vinny liked the 42 lbs. of tension and said to duplicate it on his Head TI 175. Was a pretty good night for stringing with two new customers.
03/13/10 Abe vs. Vinny (Also Unfinished)
I put in the scores from last night and had to dig around for the Abe vs. Vinny match which is also unfinished. It was pretty interesting. Abe won the first game 15-10, Vinny the second 15-7, and they had to stop play at 10-9 Advantage Abe because Abe got hit with a racquet in the calf and couldn't continue. So still waiting on that one. This unfinished business sucks
03/11/10 Matthew Pazos Withdraws.
Got the text/email a few days ago. I would like to thank Matt for getting my butt in gear and starting another League after a couple of years of slacking. Also he did a lot of leg work to get some new players into the League. Heal up dude and looking forward to the next time we play. Between us, I think Vinny was sweating Matt's game just a little.
Don Odgers jumps a couple of ELO Rankings with a straight game win over Yigal Oren 1 and 4. Tomorrow is a big match for me, I get to play Vinny Liguori. I have my game plan, I told One Lee about it weeks ago. Let's see how it executes. I also redid my Head Mean streak, so I'm ready to break'em in.
03/10/10 The Gap Widens! Vinny Leads with Seven!!
Vinny defeated Kadri Gedelec in straight games 8 and 2, which makes his record 7 and 1. The rest of his four matches are pretty tough: Abe Pollak, Erik Lopez, Matt Pazos, and myself. Abe and Vinny already played the first two games and decided to stop before the breaker. So 11 points winner takes all. Given Vinny's poor record of winning the first game, he might be in trouble. I have a game plan in place and planning on restringing my racquet tonight just for him for Friday. I know it's often not the best idea to restring right before a tournament or match, but the racquet has been hitting pretty sloppy and I think that floating around in my head is not good either.
Anyway Vinny and I have been trading emails for a while now, so it'll be good to meet and as he put it trade some shots.
03/05/10 Delgado vs. Jacquet (2/2)
Chris is another old friend from years back. I didn't take a picture with him since I was very scruffy. I did better than I thought running back to win trailing 7-0/1 in game one. Game two was a blood bath and when I saw Chris too far ahead to catch up. I hedged my bets on the third game. He played a pretty good game and I was too defensive most of the time. He won (9), 2, and 7. Was cool to catch up and I was grateful for the additional games afterward. My arm feels pretty good, my legs are still mush. I hit almost everything hard just to push my limits.
Chris has always been a diver and all over the place. He can get to just about anything. Think with some stronger mechanics he'll be very dangerous on the court. After our match he asked how he can get more power. Thinner strings or a lighter racquet was basically my answer. I checked his Pro Kennex racquet and the strings were pretty good but 16g. His racquet weighed about 190g+. I showed him the difference with my Head Mean streak (175g.) and the Gearbox GB250-T (170g). He'll play out the League with his Pro Kennex, which I agreed is a smart move.
Anyway so no more half-assed preparation on my part. It's really time to make some small and permanent changes to get more court time, get more fitness, and a lot more endurance. Otherwise I'm going to wind up playing into the first seed in the Tournament and that's not a great place to be. I asked Chris afterward what he thought of our match and he said, "I got you tired."
03/05/10 Ortiz vs. Gedelec (1/2)
Claudio's win over Kadri Gedelec (6 and 5) puts him just four points shy of the top three in ELO Rankings. Claudio needs a Win VS. Mike Fedun to seal the deal. Then it gets really rough from that point on. Good Luck Claudio.
03/04/10 Vinny's a Class Act. Leads League with 6/1 (2/2)
Vinny Liguori won over Yigal Oren in straight games 5 and 0, but afterward played a few more games with Yigal offering him some advice and he commented to me about his speed and ability to get to most shots. So keeping taking your lumps Yigal and asking for advice it'll pay off for you in the future.
03/04/10 League Tournament Thoughts (1/2)
Great that we have a good group of players and thank you for playing the League thus far. Thinking about having the top ten or eleven players fill the slots in A's Draw for Trophies and then rest fall into a B or even C round robin for 1st and 2nd place medals.
I know we had an entire division disappear right before we got started, so would like to make it fair for beginners out there and give them incentive to keep going. Of course the bottom three or four need to approved by me, so if you won 1st or 2nd in a Division before or I feel you don't belong you stay in the A crowd.
03/03/10 Dave Pollak gets his "Mojo" Back (2/2)
Dave Pollak played out his game with Ignacio Esteban in straight games 13 and 7 then he goes for a non-League game vs. Claudio and "creams" him. Dave has four matches left, including vs. me, and I think has a pretty good chance to position pretty high in the draw.
03/03/10 Chris Jacquet def. Kadri Gedelec (1/2)
Chris was looking for games this week and found Kadri with a decisive win 4 and 0. His next game is against me on Friday. I'm thinking about hitting the courts at lunch time to somewhat prepare. Looking forward to playing Chris. He has great speed and can get just about anything so my game plan has to nullify those benefits or else I'm doomed.
02/28/10 Don Odgers on the Board
I had to email about the results and I get back a very casual 8 and 6...I think from Don. Anyway was getting worried about Don. He ends his 3 game losing streak with a straight game win (8 and 6) over newcomer Mike Fedun. I believe Mike is a veteran of the EBRC. As a fellow Team Head guy, good job Don keep it going.
02/25/10 Missed Match Dave Pollak vs. Yigal Oren
Dave reminded me of an email he sent he beat Oren 5 and 4. Please keep up with the Matrix and let me know about any missed matches ASAP. Dave had a 5-Win Streak going until he met Vinny.
02/24/10 Dave Pollak vs. Vinny Liguori turns into nail biter! (2/2)
Think Vinny is going to make me write some code for my database system. He probably has one of the highest come back percentages of all the players of all time. Anyway let me write the code first and see. Anyway think Vinny had the mind set to play Kadri and came with converse sneakers out pops Dave and drops a challenge since Kadri pulled a hamstring. Abe and Vinny were supposed to finish their match, but Abe is still recovering from an injury. I know, I know. No such luxuries in a tournament match, but both players agreed. Anyway back to the action.
Dave walks over Vinny in the first game 15-4. Think Vinny was at a disadvantage without racquetball shoes, but from the results and our emails I knew Vinny wasn't going to let that stop him. Not a lot of details but Dave almost walks away with two straight losing the second game 14-15. Vinny pulls out the W in the tie-breaker: (4), 14, and 8.
Vinny wrote about how much respect he has for Abe (56) and Dave (60) and there's no denying their experience and quickness make them dangerous opponents. Congrats and the Streak Achievement Vinny.
02/24/10 Fedun vs. Lopez (1/2)
Mike Fedun just joined the League. I pretty much told him it probably wasn't going to work, but he insisted and even played Erik Lopez on Sunday. So I'm not one to judge I have plenty of make up games myself. So one more shouldn't be too bad. Anyway he started off with a W against Lopez 10 and 5. Welcome to the League Mike.
02/20/10 Delgado vs. Lopez (2/2)
Erik "Black Sox" Lopez has pretty good agility and often mechanics. I let him serve first since we weren't really warmed up and I was pretty sure I could break that first serve. I varied a lot of my serves but stayed on the defensive side of the book. I wanted to see which ones I could use later and take advantage of our poor warm-up without many risks.
There were a lot of exchanges and a lot of stuff I was trying wasn't working. Out running Erik not happening. Covering a lot of his shots also wasn't happening. So game plan became to exaggerate his poor court position to either one side or the back, control center court, and either ceiling shot, pass or cross court pass-kill to put more pressure on him. Got a couple of Aces and so did he. He started to dial into my drive serve, so it became a very tactical game. He started to lead in the second game and needed to hold it to two games. I won the match 8 and 8.
Afterward, One Lee was joking that it took me too long to win. I think Erik kind of agreed with him. Well I think I'm going to have good and bad days. Still need to sharpen a lot of my tools and I used a couple of them that had a pretty good edge. Doesn't matter how long the match takes...only the result.
Later we played some cut-throat with Warren. They used some of the Gearbox demo racquets my company has. Erik was clobbering a lot of the shots with the $200 170g. He's been playing with a low-end Ektelon. Might be time to upgrade. ;-)
02/20/10 Delgado and Lopez Seven Years of Racquetball (1/2)
Last week when I first started playing again Erik dropped a challenge to play our match last night. I accepted and on Thursday I remember a picture we took back in 2003 at Busch. It was like a year after I started really playing. Erik has always been a good friend. We don't really hang out or anything but I've always enjoyed our racquetball friendship. At least, this time I had the fore-thought to take a picture before we started playing and thank God for improved clothing materials.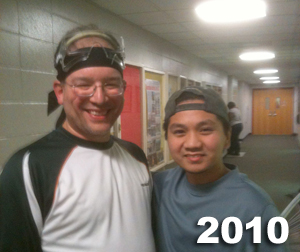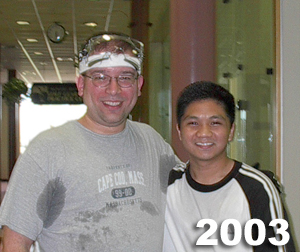 Racquetball at Rutgers has been great to still play with Erik and other people is also great. We're mostly different ages, backgrounds, and pass times, but when it comes to racquetball. Save to say we all love the game and the time we get to play together. I'll step off the soap-box and stop getting all mushy.
02/18/10 Alex Leads League 5-1!
Alex Rtishchev beat Yigal Oren last night 0 and 0. Rocketing him up to 5-1 and the current League leader. Yigal has had a tough League so far, he would of had more company if an entire division didn't just evaporate overnight. I'm curious to see his match with Kadri Gedelec. Anyway I know it's tough to keep getting your lumps in a League, Tournament, Robin, etc. It's like a snowball rolling down a hill eventually it'll pick up stuff.
Alex has also earned a "My House" Streak Achievement for five consecutive wins check out his profile. It's his longest so far, so who can shoot this Rocket down?
02/17/10 Alex and Vinny Lead League with 4-1.
The Rocket, Alex Rtishchev, leads the league with 4-1 record and a win over Vinny Liguori who's also at 4-1. Are they going to take off and become the top seeds in the League? They both have some obstacles left in the way.
Alex went 4-1 with a decisive win over Yigal 4 and 1. Vinny tied up with a straight game win over Claudio 10 and 9. During Vinny and Claudio's match, Vinny cut his hand during a dive. Anyway he found some sort of plastic glove and kept on going. Can't wait to see him play. He must be all over the place.
02/16/10 Dave Pollak's Streak Continues
Dave Pollak has tied Ignacio for League Leader with four wins and two loses. With one more win he unlocks another "My House" Streak Achievement in his Profile. Win #4 was against Don Odgers 13, (8), and 6. Dave's longest winning streak was 8 wins back in 2004.
02/14/10 Joseph Delgado Returns!
After almost two months of being out, I have been cleared to play racquetball again. I wrote about it in my blog, so no need to repeat myself here. Anyway looking forward to playing everyone and helping make sure everyone has fun playing. Thanks to the Rutgers players who helped keep things moving in my extended absence.
02/14/10 Oren vs. Pazos Missing Match
I had to dig around for this match and found in a different mailbox. Anyway resequenced the matches to include Matt's win over Yigal 2 and 4. Please double check the schedule and make sure all your matches are in.
02/10/10 Pollak Brothers Dominate Tuesday Night!
Oh, it was time to make the donuts last night and both Abe and Dave Pollak were baking. First, Dave Pollak hands one out to Erik Lopez game 1. Erik fights back to 10 in the second game, but Dave wins in two straight 0 and 10. Erik Lopez gets his "black socks" knocked off again vs. Abe 2 and 1. Had to ask him why he subjected himself to such a punishing night. Anyway we've all been there.
Next, Abe Pollak served up a double helping of donuts vs. Kadri Gedelec winning 0 and 0. Both Abe and Dave are showing a lot of players why they are veterans of the League. Good job guys.
Lastly, Ignacio's two game winning streak was wiped out by Vinny Liguori in another three game battle: (9), 3, and 1. Vinny wrote that Ignacio had all the answers to his shots in the first game and that he's a very tricky lefty. Aren't we all. Hehehehehe.
Thanks for making up the games guys.
02/09/10 Claudio Ortiz and Erik Lopez Chalk up Some W's
Erik "Black Sox" Lopez mixed up his game pretty well before focusing his efforts on a defensive game against Yigal Oren. Yigal started a bit of a run in the second game but Erik finished it in straight games 4 and 10.
Claudio Oritz vs. Don Odgers (Team Head) wish I had more details on the scores, but here's two guys that can run. Claudio has run multiple marathons and wears a heart rate monitor so he's in great condition. Odgers is no couch potato either. Anyway it went three games with Claudio winning in the breaker: 5, (5), and 7.
02/06/10 Ignacio Leads League with Four Wins!
Ignacio has been putting extra time on the courts and for the most part it's paying off lately. First with a win over Claudio Ortiz 10, (3), and 4 and then a win over Abe Pollak (Ranked 3rd in current ELO Rankings) also three games: 9, (9), and 8. This isn't the Ignacio that I remember from Leagues past, so watch out guys.
02/06/10 Alex vs. Vinny
One Lee and I were talking about this one at work. I was tempted to just go over and watch but the 6 PM start time was too rough to wait around for without playing. Would really suck to be on the courts and not able to play. Anyway heard from both of them afterward and both had great things to write about the other. Anyway One Lee picked Alex and I picked Vinny. One Lee picked correctly. Alex won (12), 7, and 8. Vinny admitted that he was working his way into the first game and some of his serves weren't right. Alex watched the trend in Vinny's games, but he's often one to drop the first game. I know Alex's love for racquetball and he's pretty passionate about the League, so maybe he wanted it a bit more. Anyway a lot of the results coming in are pretty mixed, so it really is anyone's League at this point.
Also Dave Pollak continues his two match winning streak over Chris Jacquet winning 10, (10), and 4.
Don Odgers and Matt Pazos could be injured, so will be checking on their status soon. Don't fall too far behind guys it's a lot to make up before the Tournament. So the best way is to get your matches in, practice and rest, and then come into the Tournament ready to play. Not sure I can follow this advice myself, since I'm still on the shelf.
02/04/10 Ignacio's Long Evening.
Ignacio played three matches on Tuesday and he won two. First going three games against Chris Jacquet (7), 7, and 10 and the other pickup match against Kadri Gedelec 0 and 4. I've known Ignacio aka Nacho for a long time and he's also a fellow lefty. So I know some weird things happen to a player facing a lefty. Either they don't know they are playing one or they just don't have a good serve to the right side to exploit the backhand. Most often players just keep going to the Lefty's forehand and we're more than ready to hit.
Then Ignacio stepped out and found Alex waiting for him for a scheduled match. Ignacio wanted to reschedule and Alex did the right thing and said no. Nobody forced Ignacio into taking that pickup match and Alex just pounced on him 3 and 4. Life Lesson? Don't bite off more than you can chew.
01/31/10 Breaking Out the Old Tools (1/2)
A lot of stuff in my Access Database still works and I thought might as well make it available to the players. The Player Matrix shows everyone in a table and offers links to other results and stats. Anyway until I write a better solution going the static HTML route isn't that bad.
01/31/10 Scheduled Until March (2/2)
Went through the schedule this evening making sure people have games lined up and notifying people about any problems. I'm pretty much unscheduled so far looking to start later next month or sooner. Please do your best to stick to the schedule so we don't drag out the League. Will be ordering trophies soon for the A's.
01/30/10 Liguori Leads the League with Two Wins!
So far Vinny has taken on some pretty good players and won against Chris Jacquet and now Team Head player Don Odgers in another three game battle: (12), 13, and 9. Seems Vinny plays a casual first game until he warms up. Anyway I feel like I'm sitting in the stands watching events unfold, but I'm already running players through my head and thinking about my game plans. Next Friday, Alex vs. Vinny should be another great match. Will Vinny keep pulling ahead or will Alex's promise about limiting people to seven points per game for a total of 14 remain in effect.
01/28/10 Battle Jacquet vs. Liguori
It's nice to see a group of players come together that are pretty close in ability. Some players have take W's and others have taken some L's, but it's when a match is a couple of points going either way that things just graduate to a whole new level. New comer, Vinny Liguori, started his match in a pretty deep hole against Chris Jacquet. Losing game 1 4-15. Game 2 and 3 were two to three points apart until Vinny closed out the match (4), 12, and 9. Great game guys.
01/28/10 Alex Rtishchev Breaks Out Old Faithful vs. Dave Pollak
Writing as a Head Player, I can see why Alex had to dump his existing Ektelon racquet and pickup his old Head Megablast 185 for that added umph against Dave Pollak. I've had players from other brands admit that Head racquets consistently "hit a ton!" Anyway wrote Alex he should see the AMP or Meanstreak and add some more tonnage. Anyway time to turn the commercial off. Alex won in straight games 8 and 3.
01/28/10 Abe Pollak Near Perfect Match vs. Claudio Ortiz
Claudio came back from vacation to square off against Abe Pollak. Abe has been in numerous A Finals, but hasn't claimed first place yet. Think last League's final was the most disappointing since it was so chaotic and mostly my fault for not keeping control. Anyway water under the bridge, He quickly dispatched Claudio saving him the trip to the Grocery store with two bread sticks 1 and 1.
01/28/10 Erik Lopez and Yigal Oren Join the League!
I know, I know. Strict Deadline, etc. But having a few more players can make the League more interesting and give me more time to get ready to play. Erik "Black Sox" Lopez is also a League veteran I've known for a long time. Yigal is brand new received the league payment but not schedule.
01/28/10 George Adjami Leave League
George withdraws from the League. Just a little too much commuting between work and the League.
01/25/10 Tom Shaughnessy Leaves League
Cook/Douglas Rec has a pretty strict rule about people being 18 and older to enter. For me, it would make playing racquetball with my son a lot easier. Anyway found out Tom was 16 and unable to continue. Hope to see him in a couple of years.
01/25/10 Chris Jacquet and Matthew Pazos Off to Good Starts
So we had a couple of matches go into the books. First, battle between two seasoned league players: Alex Rtishchev and Chris Jacquet. Alex provided one of his commentaries. Here's the last paragraph:
The second game was pretty close, until I pulled away 9-4 on three aces in a row. I expected Chris to panic and try some risky shots, but he stayed cool and worked back into the game for another win, 15-11. After the game, he explained that he hasn't played since November, so he didn't really have any grand expectations, and just stayed cool and played his game. I've gotta say that it worked... By the end of the second game, I felt like there was nothing I could do. Overall, it was a great match. This guy is definitely someone people should watch out for in the league. He has speed, accuracy, some decent shots, and the ability to step it up if the game gets close. My prediction is that Chris will surprise a lot of people this league.
Chris won the match over Alex in straight games 14 and 11.
The other match, involved newcomer Matt Pazos vs. Dave Pollak. Didn't hear much about the match, but Matt walks away with the W 7, (14), and 3.
01/21/10 League Starts Tonight and I'm still Benched!
Got some pretty good matches tonight. Rtishchev vs. Jacquet, D.Pollak vs. Pazos, and Odgers vs. Shaughnessy.
01/20/10 Schedule Posted
Still has some holes but the initial schedule is posted by date and by Player. Good Luck to all the players and thanks for playing.
01/17/10 A's Seem Good to Go. B's Evaporated.
Pretty sure I can vouch for Alex. Don't know Charlie and haven't heard from him, so...doesn't look too good. B's are no where near launching and I might roll-up Chris Jacquet and Yigal into the A's. So tomorrow will start getting things ready for the A's and getting an initial schedule out there. I'll send another email to the no-shows to thank them for their interest, but if you haven't forked over the $10 by now it just doesn't look good. It could be $1 or $100, just something about going hard on the money that always scares some people off.
01/11/10 One Week Out Or What?
Normally things are pretty tight by now, but had some real bad luck with my house, one of my boys, and even myself. Anyway starting 2010 things look a lot better for all of us and going to keep pushing this League.
To the right is the current list of players and we have two Divisions. I understand some people signed up for C's and with three people there wasn't enough to get a Division going. We might have a consolation drop down or other way to get people more games, but on second thought since you pay everyone in your division and then some...think the number of games people get is not going to be an issue.
Anyway we'll see about starting next week, Matt left me a voice mail asking if people can pay him. I have no problem with that. If you want to pay me in person then we'll need to setup a time. With my limited schedule and my downtime think sending the payment by mail will be best, but whatever gets you paid and playing.
Once we get everyone committed to the league the next step is setting up a basic schedule and getting people playing. Need to confirm the closing times of the C/D Courts and if there's any bad odors from the floor refinishing over the break. Anyway good luck in the League and remember to have fun.
11/12/09 Cast of Characters
As if I've written before it's all about the story. Think that's so ignored in Racquetball. People follow stories about other sports the players, the teams, the trades, and the games. We use them as ice-breakers, trash talking at bars, whatever the case. Stories fuel the game. It's what we talk about when the game is long over. So as with any play, here's the players involved so far and my $0.02 about them.
New players...well don't know what you got yet.
Abe Pollak. Abe has won several A League Tournaments and is always a strong player. Last league there were several problems during the final match. He remained pretty well composed despite a frustrating opponent and match. As a league organizer and friend, I feel like I let him down. I'm glad he decided to return to the League and his shot selection and toughness has brought him to the top of many leagues.
Alex Rtishchev. Has been a strong player in my leagues for a good number of years. We've been playing racquetball since about the time I started playing. He's always been passionate about racquetball and always talks about his games and progress with me. Over the past year or so he has developed his skills to another level. I look forward to his performance this league and lament that this could be his last league.
Claudio Ortiz. He ran the New York Marathon and is usually wearing a heart rate monitor when he plays racquetball. So he has great conditioning. A couple of leagues ago he played Alex at Busch and was in the finals. Past couple of leagues though he has been plagued by injuries just before the start of the tournament.
Dave Pollak. Dave has always been a good organizer and motivator of players. He's been getting people to play on Tuesdays and Thursdays for a long time. He likes to play Outdoor Racquetball and Table Tennis. He has had strong showings in Tournaments but still has failed to place in the top two spots in tournaments.
Don Odgers (Team Head). Known Don for a while now and recently tapped him to become a Head Collegiate Player. His ability to cover the court, his endurance, and strength makes him a formidable player. Still I see occasional weaknesses on his backhand (too much Tennis) and his mental toughness, but he's always thinking about strategy and how he hits the ball. So I expect him to do well and represent Team Head well.
Ignacio Esteban aka Nacho. Known Ignacio for a while and he's a pretty fiery on the court. We went to Busch for a while with the ladder so I'm sure he's brushed up on his skills. He has a son at home a little younger than Jason, so I understand his limited schedule all to well. Anyway I always follow the motto do what you can with what you got.
Joseph Delgado (Team Head). Hard to write about myself, but I have a couple of goals for racquetball and this league. With two young kids at home it's difficult to play more than once per week. Fred Letter told me I would not improve playing that way. I still struggle with both physical and mental toughness problems, but there's something to be said for hanging in there and playing your heart out.
Matthew Pazos. Joined up with me to help promote the league and get more people involved in the sport. He's a pretty strong player from Woodbridge, but can either be on fire or a wet blanket. He has pretty strong shots all over the court, a great serve, and can put away just about any setup. Coming up he was called skippy from being over aggressive. He brings some much needed enthusiasm to the League and where it can go.
Ronny Choy. Ronny is a pretty good doubles player and pretty much when he has come down to Rutgers he already has a couple of doubles games in him. Think pulling double duty hurt him in previous leagues, but he has a pretty good arm and is all around a very nice guy.
11/06/09 Friday Night
The night before vacation what better thing to do than play Racquetball. Well a Racquetball Vacation wouldn't be bad, but for right now any vacation is good. Don and I played a few games we actually went to a breaker in our pretend match. We were both playing with new strings courtesy of Joe's Racquet Stringing. I fell in love with Ashaway's Superkill XL and I think Don was pretty happy too. Even though, I think his factory strings could have taken more of a beating before replacement. Anyway happy to help him out.
Alex showed up and watched a few games and wanted to set the record straight about my comments on 10/31. He had 2 wins and 2 loses that night and didn't leave after losing as I had written below. He was also quick to mention how he dispatched Matt Pazos not once but twice. So don't mind me, I'm going off on half baked information and trying to stir the pot at the same time. If there's no story, there's no league in my book.
Wish we can get a few more people. I'm starting to work the Rutgers crowd and get more students just coming together and playing. We need some consistency and structure and that's what I hope the League helps to bring.
10/31/09 Surprise.
Matt Pazos thought I pulled a fast one on him when he played Abe and Dave Pollak on Thursday. Both Alex and him were effectively shutdown by Abe and Dave. I heard that Alex left after losing to Abe and Dave. Abe has always been a very tough competitor in the A's and last League he was closer to being robbed than anything else. Anyway looking forward to the League we should have a pretty hot one.
10/27/09 Two More Sign-Ups
Vinny Liguori and Steven Dilk have signed up for the League. Pretty much we'll start in January with optional play time until the Holidays...maybe. Need to finish up some stuff, do one more campaign to get more players, and start coding. I really appreciate the help from Matt Pazos in getting some new blood into the League and for all his help setting up.
10/17/09 Three More Players
Two more league veterans Abe Pollak and Claudio Ortiz have signed up. Michael Kelly is new to the League. So we'll make sure to give him a nice welcome. Processed a lot of player registrations and sent people from last year an email. We'll see if any bite.
10/06/09 Dave Pollak signs up.
Dave has been waiting for a league for a long time. So got his details yesterday. Matt sent an email blast to his group on Facebook and I'll be sending out something to past participants and to the listserv.
10/03/09 Alex, Don, Matt, and Myself Signed Up...So far.
So far we have four people in A's. Anyway I'll post on the Listserv early next week and let more of the regulars know. Hopefully we can boost the numbers a bit.