06/20/12 League Party from June 1st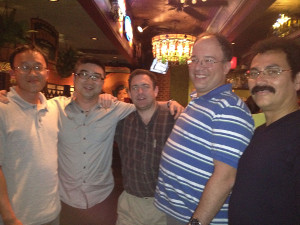 Redid my computer with Windows 7 so was offline for a bit reinstalling things. Was great to hang out with the guys and Claudio's wife. From left to right we had: Warren, Frank (who happened to be there), Rob, myself, and Claudio. Ben also showed up but he had to leave before we took the picture.
It was great just to hang out without trying to beat the stuffing out of each other. Anyway was a great ending to a great League. Nothing like good racquetball and good friends!
05/17/12 Warren Lim Takes First in B/C! (From Main)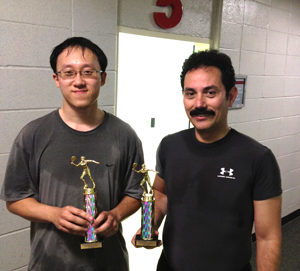 Both guys were working hard and I only caught a couple of minutes. I didn't want to spook anyone and One Lee was already kind of watching. Think both guys left everything on the court. Warren inched the victory: 6, (13), and 9.
Kicked both guys out of B/C and up to A's for next League, think the have worked hard and deserve the upgrade. Warren's power has increased dramatically this League and can rifle shots on his forehand close to 100 MPH. Claudio's signature "W" shot did some damage and his endurance on the court is one of the best this League.
Keep working hard guys over the Summer. Claudio also said I lost weight, hopefully I can keep it going.
05/17/12 Ronny Choy Takes Third in Elites (From Main)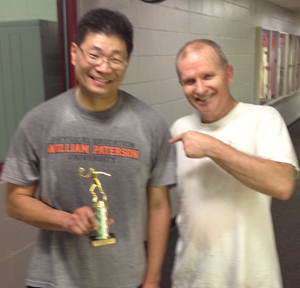 Regretfully didn't catch any of the games between Abe and Ronny, but seemed pretty intense and some how Abe was pelted a couple of times. With Ronny's shots...I would not want to be pelted once let a lone a couple of times. Ronny finished third with 12, (11), and 3. Think I was very lucky to make it past him in our match.
Ronny and I have been playing some Doubles whenever we get a chance. He's plays a good doubles game and his forehand is near 100 MPH and over also. Earning first seed in League play is a great accomplishment and running a half-marathon is another. Abe has been in my Leagues for a number of years and I have a lot of respect for him as a player. Think he was caught not practicing a couple of times and wasn't prepared for some of the competition. Think he'll return with a vengenace next league. The reason there's an Elites this league is because of him.
05/10/12 Vinny Liguori takes 1st in Elites
But first, some catch up...
Elites
Finals. Vinny Liguori def. Joe Delgado 15-12; 5-15; 11-4.
Semi. Vinny Liguori def. Abe Pollak 15-9; 15-3.
Semi. Joe Delgado def. Ronny Choy 12-15; 15-7; 11-7.
Qtrs. Vinny Liguori def. Claudio Ortiz 15-7; 15-13.
Qtrs. Ronny Choy def. Benjamin Gelb 15-3; 15-3.
16s. Claudio Ortiz def. Kelly Rafferty 15-10; 15-3.
B/C
Warren Lim def. Kelly Rafferty 15-9; 15-5.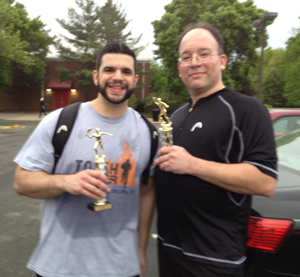 Looking back I could have done a better job on the League, but it's been hard and just don't have the time to really sit down a break down games or even just sit at the gym and watch. It's also hard to get play by play on a consistent basis, so we do what we can with what have.
Looking back I really had some Cinderella moments in the draw this League. I lost to both Rob and Ronny in League play and won those matches in the draws by a couple of points in the tie-breaker. I think I won those matches because I dug deeper and pushed my performance to equal or slightly surpass my opponents. I know Rob played the night before and Ronny was like a week or so recovered from a half maraton at Rutgers, so going into a match fully rested helped me equal things out.
Vinny has a lot more fitness and strength than I do. So I knew I had to do my damage quickly. It's been a long time since I was in a final like (2003-04) so I think I was making a lot of mistakes from nerves. Losing the first game, kind of snapped me out of it, and I took the second game by hitting hard and controlling my shots. Third game, think I expelled a lot of energy and Vinny still had a lot more left.
One of the last shots of the match was some sideways dive or something that Vinny did and his shot just missed the front wall by my quick observation. He thought he made it and Rob agreed with me that it skipped. I could tell it really bugged him, but it bugged me too (which is very stupid) and I couldn't captialize on it. A couple of side outs and he closed out the match. He won the match: 12, (5), and 4. Afterward, I was playing around saying that the shot skipped "like a little girl skipping to school." Anyway I thought it was pretty funny.
04/15/12 Steven Tolman Withdraws
Steven got injured and does not want to continue. So Ben advances by default to face Ronny Choy.
04/02/12 Kelly Rafferty Advances in B/C
Looks like a very close match between Ben and Kelly with Kelly inching out a tie-breaker win with 14, (10), and 10. Well they played by win by two points for some reason, which still makes it an even sweetier victory for Kelly. She goes on to face Warren Lim in the semi-finals. Way to hang in there and keep going.
03/31/12 Tournament Matches
The Open/Elite Draw started on Tuesday, 3/27, with the following matches:
Joe Delgado (Spotswood, NJ) def. Robert Muldowney (N/A) 13-15; 15-14; 11-9.
Abe Pollak (N/A) def. Warren Lim (N/A) 15-1; 15-13.
Delgado vs. Muldowney
I lost to Rob by one point during League play, so I knew I had to change my "Load Out" for this match. I didn't practice my shots or start a vigorous exercise routine. I did the complete opposite and rested. Usually I'm running after the kids, programming until 12:00/1:00 AM, and sometimes my younger son wakes me up a couple of times per night. So didn't play as much, stretched, rested, and got an extra hour and half sleep the night before the match. I also mapped out my serves and which ones did the most damage. I also fueled up on bread and pasta for lunch and took two Advil. As Brad Gilbert gently put it in his book if you're over 40 stop kidding yourself and take the pain relievers.
For as much as I prepared, I think Rob did not. He plays a lot more than I do and I saw him a little off at the start of our game. I heard from Warren that they both played at Busch campus the night before. Anyway I liked what I was reading from Rob and I think that made me push a little harder. Our match lasted about an hour and a half and the last few points I 100% made the right call resting. I hit myself with the ball toward the end of the first game and I remembered making the same mistake in League play. He hit himself during the second game, so we evened out. He hit a shot up front that came back right to him and I was able to tap it for a kill instead of calling a hinder. My shot came off the back wall and we collided, so I basically braced him and he stepped on my lower leg. We used a lot of time outs for both rest and strategy.
It was a great match and I have a lot of respect for Rob. Glad I prepared and offered my prayers to God and moved on. I'm also grateful for the grace period between matches because on Friday I was still running on empty.
Abe Pollak vs. Warren Lim
I didn't see the match, but after the first game. I saw Warren and asked about the game. He said one point. So I thought 15-14. He corrected me saying no 1 point. One Lee said he played a good second game, but Abe advanced 1 and 13.
03/31/12 Catch Up
No excuses, kind of got busy with other things and had some system problems, so below is the last of the match results before the tournament started.
Ronny Choy (N/A) def. Warren Lim (N/A) 15-8; 15-5.
Robert Muldowney (N/A) def. Joshua Sykes (N/A) 15-5; 15-11.
Steven Tolman (N/A) def. Kelly Rafferty (N/A) 15-10; 15-10.
Warren Lim (N/A) def. Kelly Rafferty (N/A) 15-7; 15-10.
Warren Lim (N/A) def. Claudio Ortiz (N/A) 15-5; 15-2.
Joe Delgado (Spotswood, NJ) def. Steven Tolman (N/A) 15-7; 15-3.
Claudio Ortiz (N/A) def. Kelly Rafferty (N/A) 15-8; 15-10.
Ronny Choy (N/A) def. Kelly Rafferty (N/A) 15-4; 15-7.
Joe Delgado vs. Steven Tolman
Steve was the last person I had to play and since he was new...I had no idea where he belonged. He had some interesting third games against some of the better players in the League, so I had some interesting decisions to make. Great forehand, quickness, and endurance were some of the first attributes I saw. As we played I noticed some holes in his backhand, so my final assessment was B. So instead of a C/D Draw, we have a B/C.
03/25/12 Trophies and Rebuilding Still...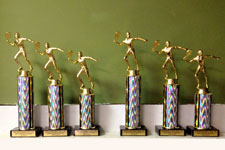 Trophies have arrived and are in the garage so my boys don't get their hands on them. Regretfully have made some errors in multiple locations this League. For example, it should be Elite and not Open. It should be 2011-12 instead of 2012-13. So might need to get some new trophy labels and update the website when the time comes. Just been having some computer issues and I'm working toward the light.
It's time to reinstall my operating system on my workstation and over the years I've slapped on more and more applications. Well it's time to pay the check for all those years of conveience. I'm slowly moving things from my workstation to our Ubuntu Server. Having one centralized server will aid in development across our desktop and laptop environments.
Final Tournament Seeding (3/25/12)
| | | | | | |
| --- | --- | --- | --- | --- | --- |
| Rank | W/L | Spread | Div | Player | Notes |
| 1. | 8/1 | ±0 | A | Ronny Choy | |
| 2. | 8/1 | ±0 | A | Vinny Liguori | |
| 3. | 8/2 | ±0 | A | Abe Pollak | Beat Ronny. |
| 4. | 7/3 | ±0 | A | Robert Muldowney | Beat Delgado. |
| 5. | 5/4 | ±0 | A | Joe Delgado | Beat Lim. |
| 6. | 4/5 | ±0 | A | Warren Lim | |
| 7. | 4/5 | ±0 | A | Claudio Ortiz | Beat Delgado. |
| 8. | 2/7 | ±0 | B | Steven Tolman | Beat Benjamin |
| 9. | 1/8 | ±0 | B-D | Benjamin Gelb | Beat Kelly. |
| 11. | 0/9 | ±0 | C-D | Kelly Rafferty | |
02/24/12 Final Schedule Posted
About eleven matches remain, so final schedule is up. From this point on, there's no more reschedules and forfeits are in effect. Good luck and move those rankings up.
02/14/12 Dave Pollak and Frank Cai Drop Out
It's sad to lose two players this late in the League. We down to about 15 matches left, so we can hit the tournament soon. Good Luck to everyone.
01/27/12 (2/2) Vinny Liguori vs. Abe Pollak
Thanks to Vinny for writing up some excellent commentary on his match.
Me and Abe haven't played healthy against each other since two years ago and that was an epic battle. He forfeited 3rd place match that year in the playoffs and the following year he beat me when my elbow was highly inflamed and hurting. I knew this one was going to be a battle and it definitely was.

Match 1

Abe is having his way with me and just wiping the floor to a 10-1 lead. I am not converting on basic shots at the end of the great volleys. The volleys were there and I was coming up short. The game didn't seem as lopsided as the score. When it was 10-1, I remembered a video montage (see below) I saw and then posted on Facebook last week about motivation in sports and I could just hear it in my head.

I started to chip one point at and time and played as good as I could defensively. Then the shots started coming back to me. He still climbed up to a 14-8 lead and if you were an outsider, it was an inevitable win for him. In my head, I slowed the game down and tried not to rush things and thought them through. I got it up to 14-11 before giving him the serve back. I hustled hard to get my serve back and wound up getting some good aces to make it 14 all. The last play I reverted back to my crazy dive and finished it with my body stretched out as long as possible for a kill shot. It felt good to end the game and my comeback with that shot. It felt fitting.

First match- I won 15-14

Match 2

Abe starts reeling off to a good lead again. I believe 8-2 before I mount a little bit of a comeback to 8-6. He takes a 14-7 lead from me, much like the first game he is dominating early and often. I get the ball back and try to mount another improbable comeback and make it 14-11 only to fall short on his next serve and lose 15-11. The end of both games gave me confidence going into the third that I may have him tired.

Second match- Abe wins 15-11

Match 3

To no surprise to me, we are in the tie breaker all sweaty and tired from the great volleys of the past two games. This game was so back and both. I was up 2-1 then he took a 3-2 lead. Then it was I scored he scored (3-3, 4-4, 5-5, 6-6, 7-7) He wound up taking two timeouts during this game before he took the 8-7 lead, which I definitely needed as well. These were vicious back and forth tiring volleys. I got the ball back and found a great rhythm on my serves scoring a couple of aces and then a very long volley to close out. I wound up outlasting him 11-8 in the final match.

I win 14, (11), 8 in a brutal battle.
01/27/12 Surprising Turn of Events
I've played and lost to Abe for a long time. I remember just getting down on myself or just repeating mistakes or just getting so worked up that I couldn't think straight. One of my year's resolutions is to live delibertly for two years. To honestly focus on what I need to do and go after it. Work is not one of those things. My Family is. My Finances is. My business is. My fitness is. My racquetball is. I have heard people in the League say it's just a league game that it is not important. I couldn't disagree more. It is important to face adversity and continue. It's important to face losing and continue. It's important to step up and not make excuses to accept the consequences for what you have done and do something about it.
Anyway let me put the soap box away. Before the match I drilled fifty down the lines on my forehand and backhand. I didn't care if I was exhausting myself and didn't care how many I missed. I hit fifty on both sides. When the match started I remembered one of Abe's bad habits and built a game plan around it. I wanted to control the third shot in the rally (my serve, his return, and my shot.) I looked and found two more serves that worked. I also put my practice to good use and hit hard and used the corners and for the first time. I won and won decisively. Doesn't matter what happened in the past or in the future that night I executed my game plan and stayed focused the entire match.
One of my friends on Facebook and someone I asked to be my mentor shared this video. It's not the same one since it had some professional football player working out, but the message is the same. Other things have been more important than my success and it's easy to blame other events and even my kids. It's not fair to them and it's not fair to me as well. Hope you enjoy the video and it makes a lot of sense to me.
I have a lot of respect for Abe and glad we had a great battle. 12, (10), and 2. I need to continue working harder.
01/24/12 Hit the Wall...Hard.
So far this week, Abe and Vinny have inched away from the pack with Rob Muldowney rounding out the top three. Rob has three remaining matches one of them vs. Frank Cai who last league knocked Rob out of 1st place. Rob has shown great improvement this League and should be interesting to watch.
Warren Lim (N/A) def. Dave Pollak (N/A) 15-10; 15-13.
Vinny Liguori (N/A) def. Joshua Sykes (N/A) 15-0; 15-0.
Vinny Liguori (N/A) def. Robert Muldowney (N/A) 15-14; 14-15; 11-1.
Ronny Choy (N/A) def. Joe Delgado (Spotswood, NJ) 12-15; 15-9; 11-1.
Abe Pollak (N/A) def. Kelly Rafferty (N/A) 15-0; 15-0.
I didn't get a chance to write about my match (Vinny Liguori def. Joe Delgado). I've known Vinny for a while now and he's always training for something a Tough Mudder, running, lifting etc. Since my idea recently of lifting weights is picking up my boys, I knew I was in trouble going in. I saw a glimmer of hope with Vinny's racquet. It weighed like a tree trunk, but turns out that was a wrong place to focus my game plan.
First game was pretty close, if my endurance was an ATM card, well I was going to the ATM like every five minutes and by the time the second game started I was getting those overdraft notices in the mail. Anyway for Vinny, I need to capitalize on what he sends my way and bury it. He got me in straight games 13 and 7.
Robert Muldowney def. Joe Delgado was a great match. It was a brutal exchange of points and in the last game. It doesn't get much closer 11-10. I remember one of the last rallies it was several shots and then I get hit in the back for a replay at Match point. I took a time out and walked to the water fountain breathing like I was on Mars or something. I did it on purpose just to regain as much as I could. Anyway side out came and Rob closed out the game with a down the line kill.
A few days later, I faced off with Ronny Choy. Ronny has a dangerous forehand, so did my best to keep it in the dark. When the score was 0-0 in the first game, my legs felt like lead weight and sore. It felt like I still had a couple of games in me. Managed to go three games, but in the last game I had closed the bank account and just got cleaned 11-1. Funny thing was Rob also got 11-1 against Vinny on the same night. So looks like I wasn't the only one who dumped everything out of the piggy bank that Tuesday.
01/17/12 Rolling Right Along
Sorry for the short updates lately. Been difficult keeping up and lots of things in different areas need old fashioned getting done. All thirteen players are squared up and playing. So time to start thinking about the trophies. Below is a recap of some of the scores. I took pictures of a couple of players tonight, but Cook/Douglas is not known for it's court photography and a lot of shots I took were crap.
Abe Pollak (N/A) def. Ronny Choy (N/A) 15-1; 15-3.
Robert Muldowney (N/A) def. Benjamin Gelb (N/A) 15-0; 15-1.
Dave Pollak (N/A) def. Kelly Rafferty (N/A) 15-3; 15-4.
Steven Tolman (N/A) def. Benjamin Gelb (N/A) 15-11; 15-7.
Robert Muldowney (N/A) def. Kelly Rafferty (N/A) 15-2; 15-2.
Claudio Ortiz (N/A) def. Steven Tolman (N/A) 15-9; 6-15; 11-9.
Abe Pollak (N/A) def. Warren Lim (N/A) 15-9; 15-8.
Vinny Liguori (N/A) def. Joe Delgado (Spotswood, NJ) 15-13; 15-7.
Ronny Choy (N/A) def. Claudio Ortiz (N/A) 15-14; 15-4.
Warren Lim (N/A) def. Steven Tolman (N/A) 15-9; 15-13.
Abe Pollak (N/A) def. Joshua Sykes (N/A) 15-1; 15-1.
Abe Pollak (N/A) def. Steven Tolman (N/A) 15-6; 15-3.
Joe Delgado (Spotswood, NJ) def. Joshua Sykes (N/A) 15-1; 15-1.
Robert Muldowney (N/A) def. Joe Delgado (Spotswood, NJ) 15-12; 4-15; 11-10.
Dave Pollak (N/A) def. Ronny Choy (N/A) 15-12; 15-4.
Vinny Liguori (N/A) def. Steven Tolman (N/A) 10-15; 15-2; 11-5.
Vinny Liguori (N/A) def. Benjamin Gelb (N/A) 15-14; 15-3.
12/23/11 That's a Wrap for 2011
Hope everyone has a safe Holiday Season and a great 2012. If the shoe fits, Merry Christmas! I'm home with my youngest, Matt, and we have the tree lit and Christmas music playing on the computer while I update the League. Of course, Green Day's Holiday got mistakenly added to the play list, but that's cool too.
Robert Muldowney (N/A) def. Claudio Ortiz (N/A) 9-15; 15-3; 11-8
Robert Muldowney (N/A) def. Warren Lim (N/A) 15-10; 11-15; 11-7
Vinny Liguori (N/A) def. Claudio Ortiz (N/A) 15-8; 15-4
Robert Muldowney (N/A) def. Steven Tolman (N/A) 15-7; 15-2
Joe Delgado (Spotswood, NJ) def. Warren Lim (N/A) 8-15; 15-7; 11-6
Claudio vs. Rob. Claudio is one of the few players (besides me) who consistently uses Time Outs to gain a strategic advantage and disrupt an opponent's momentum. I remember from Fran Davis' camp if you lose a game with time outs remaining you mismanged that game. Below is Rob's play by play:
After a rapid climb to a 9-2 lead for Muldowney., Ortiz took a strategic time-out which proved to disturb Muldowney's concentration allowing Ortiz to finish out the game without ceding another point to his opponent. The second game was practically identical to the first with Ortiz taking a time-out while being down 8-2, but this time Muldowney used part of the break to practice his backhand and keep his mind in the game which yielded a strong finish at 15-3. The final game was intense with several changes of lead and a long series of changes of serve at 8-8. After Muldowney called a double fault with which Ortiz did not fully agree, Muldowney earned three quick and weakly contested points presumably caused by the disappointing service loss.
Rob vs. Warren. One Lee stopped by my office telling me both players were really going at it and both were sweating when they left the court. Warren wrote it was pretty intense match with multiple exchanges.
Vinny vs. Claudio. Two Cardio Machines on the Court just makes me nervous. Claudio with his marathon training and Vinny with his Tough Mudders, Triathalons, and whatever else he attacks. Anyway Claudio played through an injury and hope he's ok. Below is Vinny's Play by Play.
The score might a little more lopsided than the actual match, but I beat claudio 8, 4. There were some great back and forth, hard working points on the line and I just happened to get the better of the exchanges. He also hurt his calf towards the end of the first game, but said he was OK to finish after a few minutes. It definitely still bothered him but I told him to take his time. Fun match and I hope he feels better as I know how it feels to play through some rough injuries. His seemed like a bad cramp or a pull-not sure.
Rob vs. Steven. Haven't had the chance to play Steven yet, but 7 and 2 against Rob is respectable. Hopefully play Steven early in 2012.
Joe vs. Warren. Let me back up a bit to the day I met Kelly. During a cut-throat game with One Lee. I commented on Kelly's good play, but I haven't seen her "War Face" yet. She answered, "I don't have a war face." I laughed a bit, "everybody has a war face." That out of the way, Warren brought out my Demon on the court during the match. Normally I'm pretty easy going, friendly, and smiling all the time...but mostly during tournament play there's another Joe that gets caught up in the blood lust.
Anyway after losing the first game and half way to losing the second. I tossed my Head Meanstreak with it's dead strings and picked up a heavier Gearbox 190, the same racquet Warren was using. Here we are two lefties using the same racquet. Mano a Mano. I switched racquets a few times in my life and regretted it both times. I didn't care, I was disgusted with my old strings and I wanted something I can break the damn ball with! One Lee was watching and said during a time out that I was out of gas. Oh no, the Demon is just getting started.
My game plan revolved around keeping Warren's lethal Forehand out of the game. Now with the heavier racquet, I wanted to crush the ball into his backhand corner. I really just went for broke and pushed the limits of my arm, legs, everything. It took everything I had to come back and win that match. It was a lot of fun and have new respect for Warren as a player.
12/14/11 Catching Up
Once I start to fall behind on the matches, it becomes hard to keep up. So here's the latest recap to catch things up.
Joe Delgado (Spotswood, NJ) def. Kelly Rafferty (N/A) 15-1; 15-3. Kelly is a pretty good C/D player, I mean she pretty much got a racquet on everything I threw at her and her court movement was pretty good. I offered her some pointers and think she'll gain a lot from the League. Very proud to have her as the first woman player in my Leagues.
Vinny Liguori (N/A) def. Warren Lim (N/A) 15-4; 15-12. Warren played a great second game and his shot power has increased considerably since the last League. Vinny is just as crazy as ever and making his spectacular gets and dives as usual. I expect great things from both players this League.
Benjamin Gelb (N/A) def. Kelly Rafferty (N/A) 15-7; 15-9. Ben, Kelly, and Steven should have a great time battling it out this League. I think if each of them picks up a couple of new tools before the Tournament it could easily mean the difference between 1st and 2nd. I haven't seen Steven play yet, but from what I heard he should fit right in.
Claudio Ortiz (N/A) def. Joe Delgado (Spotswood, NJ) 7-15; 15-12; 11-6. I've known Claudio for a long time and I knew the longer my match with him would drag on the worse it would be for me. First game, I had a good spring in my step and my shots were crisp. Second game, I started to get really tired and despearately tried to close the game with 12, but Claudio kept hitting the ball up front and I kept having to run it down. During one of the breaks between games he said I had a "Beer Belly". I told him it was a "soda belly." Anyway by game three, there were warning lights flashing all over the place and I crawled up to six. I promptly decided to drop soda and shed about some 25 pounds. I told Vinny on Facebook that I needed something to piss me off and get me back to the gym. I got it, thanks Claudio.
Dave Pollak (N/A) def. Benjamin Gelb (N/A) 15-1; 15-4. My program kind of scheduled Ben back to back. I need to rewrite the program to include Holidays and playing more than one a week without a break. Dave has some pretty consistent pinches and serves and is after his brother going to three games in a hour and half match is something else.
Abe Pollak (N/A) def. Robert Muldowney (N/A) 15-4; 14-15; 11-8. Rob has been playing some pretty good racquetball lately and has been challenging to a lot of players including myself. Last League he took 2nd place in B's and now he came within a point of defeating the defending A champ, Abe Pollak. Abe doesn't fray often and plays very consistently.
12/07/11 Nice Tuesday
Nice to see the courts full of people playing racquetball. We had three matches in one night. First was Delgado vs. Gelb with Delgado winning 3 and 4. Ben has improved a lot since last time. I offered a little of my limited racquetball advice. Hope he takes it. Ronny Choy dispatched returning B finalist Rob Muldowney in straight games 6 and 10. The main event of the evening...was returning A Champion Abe Pollak vs. A finalist Dave Pollak's hour and a half battle with Abe winning in three games: 12, (14), and 8.
After my match I played a friendly game with Ronny Choy and he had me on the ropes quickly winning the first game like 15-7. Anyway I'd better get in shape. We also had Joel Greengarten stop by and play some doubles. I also showed some Rutgers Freshmen play racquetball, but it was more of excercise in my patience than anything else.
12/04/11 Warren Lim defeats Frank Cai
Uh oh. Returning B Champion Frank Cai was...I don't know how best to put it...smacked down by 3rd placer Warren Lim in straight games 9 and 9. Since last League Warren has increased his serve and shot power considerably. He also has the annoying habit of just popping up to retrieve shots. So looking to see good things from Warren this season.
12/04/11 Claudio Starts Off with a W
Claudio Ortiz defeated Ben Gleb in straight games 3 and 6. Claudio is on Dave Pollak's heels for the 4th ELO Ranking.
11/28/11 League Schedule Posted
Suggest players use the By Player Schedule instead of the By Date. Keep in mind this is an auto generated schedule and there's bound to be errors. It's important to review your schedule and let me know about any scheduling problems. Cook/Douglas closes down during Winter break and this schedule will need to be revised by then, but this schedule gets us on the court and playing. Good Luck!
Registered Players as of 11/28/11
The follow players have signed up for the League in the following divisions. We normally play everyone so we can get the most games in and see if everyone belongs where they say.
11/18/11 Fourteen Players. Pretty Good!
So far have fourteen with one joining today. I know we kept lagging on the schedule, but we're close to Thanksgiving anyway and the Holidays are just around the corner, so been my experience not to push people too much around this time.
10/7/11 Welcome to Our 2011-2012 Racquetball League and Tournament.
We usually run about six months depending on the number of players. We start off with people signing up with their contact and schedule information. Then we start creating a schedule to get everyone playing. Once all League play is complete we start a tournament draw based on your Win/Loss record for the League. We award First, Second, and Third place trophies. Guests can play at Rutgers for $5 to $10 per visit and discount cards are available at the front desk. We charge $10 to help pay for Trophies, etc.
If it sounds interesting then please sign-up or email Joe Delgado with your questions. This is our 9th League so we have a pretty good group of players and we do our best to enforce respectful and fair play. We also keep profiles, rankings, and other stats and they carry over from League to League.