10/19/10 Got Nine Signed Up!
Received one more app last night after sending out my announcement for a total of nine. Follow along on League News. Maybe get a few more later today...the more the merrier.
09/08/10 2010-2011 EQP Racquetball League and Tournament
Started to accept sign-ups for our eighth Racquetball League and Tournament. We're making things more flexible and looking to bring in some new blood. Can follow the League News for who's signed up and how the League is going.
08/14/10 Rutgers Racquetball Closed for Two Weeks?
Looks like Rutgers is closed until classes resume in September. Some of the guys were asking, "What are we going to do?" It's either Hillsborough or Outdoor. So let's see what's going on at the Hills.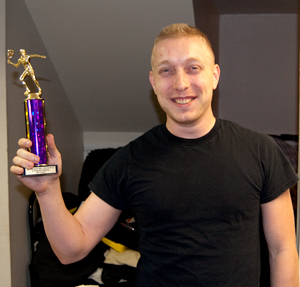 05/28/10 Alex Rtishchev Wins A's
After about four months of play and seventy four total matches Alex Rtishchev emerges as our 7th League Tournament Champion. He earned 3rd seed in League Play, defeated #6 Chris Jacquet in the quarters. Then he caused an upset by defeating #2, Abe Pollak, in straight games to face Dave Pollak #4 in the finals. In another straight games match, Alex takes first place. Dave Pollak second, and 3rd is yet to be determined.
So much earned congratulations and I believe this is his fourth trophy in our Leagues. Overall it was a great League, we had some new players sign up, the staff at Cook/Douglas was great keeping things moving for us, and I believe everyone had a good time. Anyway Vinny is already talking about September and that sounds like a good plan.
Can read up about the entire League and see how things finish up between Abe and Vinny for third place.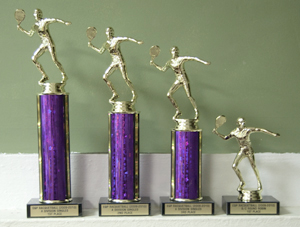 05/04/10 League Tournament Draw Posted
Eleven players finished the League and ten went into the draw. Both Delgado and Odgers need to defend their places in the draw (vs. Fedun and Lopez) while everyone else can sit with a Bye. So follow the news.
Also trying to get a B/C Round Robin together for the last litle trophy that was supposed to be for the drop downs from A's, but that didn't really happen. So Tina, my doubles partner, has drummed up a few people...last thing is to pick a date. I think the 8 o'clock closings are going to be hard for people. So I think, we get an extra hour during the Summer or maybe lose one. We never know.
04/11/10 League News: Fourteen Matches Left. Rankings Posted
Trying to get the League into the books with the last fourteen matches scheduled to finish by the end of April. Can follow along at the top of the news page to follow players as they fall into place. We really need to square things up before Summer hours and any closings. So get on the ball and finish up guys.
02/28/10 League News: Rtishchev and Liguori Early Leaders
Sometimes...well most of the time I neglect this page. I either update my blog or write about the League and leave this page with old news. Really bad move since this is my site's home page.
Anyway have a pretty good League with fourteen people. It's been pretty tough keeping things moving and handling everything else in my life, but so far I think I'm doing a pretty good job and thanks to the people helping on the front-line to keep things moving.
Before people forget the title, out of the 14 Alex Rtishchev and Vinny Liguori currently hold the top two spots with 5-1 records. They still have a lot of matches to go through and a lot of the games have been pretty close. So it can be anyone's league. Hope you check back often.
02/01/10 Racquetball News Coming.
When people who have already registered start to re-register on my site it means only one thing. People are itching for some Racquetball News! So will start getting some items together and maybe a couple of application improvements and a new article for this weekend. So far we have a pretty good League going and I find myself using a lot of the old applications that I wrote. Over the coming months plan on giving players more control and make my application update a lot easier.
01/11/10 Cook/Douglas League Time to Pay Up or Step.
We're about a week out from the C/D League starting and we still have a lot of people who haven't paid. So time is running out. Matt has offered to help collect any league fees so if you want to pay him that works too. Looking forward to your participation. Also updated the Leagues page with the current Divisions and Players.